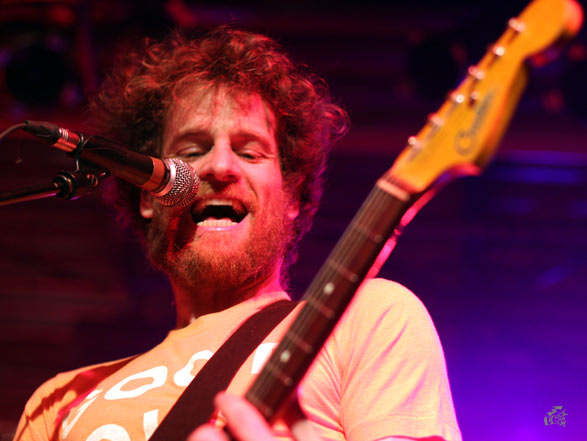 State Radio live? Auf jeden Fall und immer wieder gerne!
Chad Urmston und seine beiden Kollegen haben mit einem genialen Mix aus Roots Reggae und Rock, das Publikum im Backstage in München auf abwechslungsreiche Erlebnisreise geschickt!
Faszinierend war die Lockerheit die sie auf der Bühne ausgestrahlt haben und genau diese ,,positiv vibrations'' hat man im Publikum gespürt. Ohne special effects, sondern mit einem nahezu perfekten musikalischen Zusammenspiel und unverwechselbaren Improvisationsgeschick, haben sie einen ,,Flow'' kreiert in dem man sich nur allzu gerne verlieren und treiben lassen wollte. Ein Beweis dafür war das unerwartete Text sichere, meistens als eher konservativ geltende Münchner Publikum, das die Band bei fast allen Songs kräftig unterstützt hat! Thumbs up dafür!
Die Perfekte Vorarbeit dazu haben The Skints geleistet. Relativ unbekannt zwar aber live eine absolute Waffe! Die vier haben der Tanzwütigen Menge schon vorab ordentlich eingeheizt! State Radio hat die Steilvorlage dann in meisterlicher Manier verwandelt!
Das Fazit also: Ein absolut gelungener Abend mit zwei fantastischen Bands! München braucht mehr Davon!!!!
State Radio live? Yes and please again!
Chad Urmston and his two colleagues did send the audience at the Backstage in Munich with their great mix of roots reggae and rock on a fantastic experience trip.
Fascinating how relaxed they have been on stage and how these "positive vibes" were absorbed by the once not on stage. Without special effects but with a tight interplay State Radio created a flow, on which it was fun to be taken away.
*Text by Kil-Ian