Vorbei 2002 mit The Ark, 18.12.2002
ich denke das Jahr beschließen durften für mich The Ark aus Schweden. Schön, kitschig und immer gerne wieder. Mit Goldstaub in der Luft. Konzertfotos aus dem Atomic Cafe. Alles Gute bis 2003

Goodbye 2002 with The Ark. 18.12.2002
I think the last live gig this year was The Ark from Sweden at the Atomic Cafe. In Lust We Trust: nice, trashy and please again! Even golden stars were flying around. All the best – see you in 2003

Hellacopters and Datsuns stripping the Gaza 16.12.2002
das Backstage als Vorweihnachtsfreude. Die Gaza Strippers, leider ohne Ihren Sänger (wurde krank oder musste dringend nach Haus), doch dafür hat Mr. Hellacopter das Singen übernommen. Danach die Aufsteiger aus Neuseeland: The Datsuns und als Hauptakt The Hellacopters.

Backstage again with Hellacopters and Datsuns 16.12.2002
This time with Gaza Strippers and a "new" singer, Mr. Hellacopter, due to the fact that the "real" singer was ill or had to go home. Afterwards The Datsuns from New Zealand and the main band The Hellacopters.

The Night Before The Day The Earth Stood Still, 04.12.2002
einen Kracher zur Vorweihnachtszeit: New Bomb Turks aus Ohio! Mit Jumps und Gerenne auf der Bühne, eine wahre Freude. Dabei waren auch die Dirtshakes und Dechman. Und was für ein Tour/Plattenname: The Night Before The Day The Earth Stood Still

Destroy-Oh-Boy New Bomb Turks, 04.12.2002
What a show at the Backstage: New Bomb Turks. Lots of Jumps and running up and down like having the mad cow desease. There were as well Dirtshakes and Dechman.

Danse Macabre mit Radio4 und The Faint 03.12.2002
Ein geiles Paket hat uns das Orangehouse geschnürt, die schwer angesagten Radio4 und Electroclasher The Faint. Danke.

Dance to the underground 03.12.2002
A nice package here at the Orangehouse: Radio4 live on stage, followed by the saddle creek band The Faint with their Danse Macabre. You take the stage and take control…thanks.

Fun For Free mit Gallon Drunk 22.11.2002
In der Muffathalle spielten Conic, die Jungs aus Bayern und Gallon Drunk. Trotz freiem Eintritt haben sich nicht so viele Zuschauer eingefunden. Was soll`s, zum Fotografieren ist das dann eh meist besser.

Gallon Drunk Conic 22.11.2002
Conic from Bavaria where playing at the Muffathalle and as well Gallon Drunk. Even with free permission there were not so many people what I do not understand. Anyway, this is good to take pictures.

It's a Love Cult, it's Motorpsycho 19.11.2002
den weiten Weg aus dem Norden ins Backstage haben Isolation Years und Motorpsycho für folgende Bilder auf sich genommen.

Northern lights. 19.11.2002
The long way from the north to the new Backstage have taken Isolation Years and Motorpsycho, just to get their pictures on Rock The Cam.

Up The Bracket im Atomic Cafe, 15.11.2002
Will I Am durften für die zur Zeit schwer angesagte Band aus England eröffnen: The Libertines. Irgendwie komisch, Musik ganz gut, die Typen irgendwie nicht und verdammt kurzer Auftritt (kostet ja zum Glück alles nichts). Was sich da noch tun wird mit Carl Barat und Pete Doherty?

The hype The Libertines. 15.11.2002
Another ground breaking new band from England was playing at the Atomic Café: The Libertines. Strange, the music is good, the guys somehow not and a really short gig. What will happen with Carl Barat and Pete Doherty in the future? Just light up and burn out like so many other hype bands or are they here to stay? The lucky opening act was Will I Am.

Rock'n'D4 Roll Motherfucker! 14.11.2002
The D4, nachdem die mir beim Reading Festival total gefallen haben, freute ich mich auf den Auftritt im Feierwerk. Leider wenige Zuschauer, aber der Rest war korrekt.

R'n'R Motherfucker! 14.11.2002
The D4, after I liked them a lot at The Reading Festival, I was happy to see them at the Feierwerk. Not so many people, but the show was good. Party!!!!

Don't panic mit Coldplay, 10.11.2002
Leider habe ich Idlewild mehr oder weniger verpasst, keine Bilder, dafür dreimal Coldplay live im Zenith, ist auch nicht schlecht, oder? Und in ein paar Tagen die Jungs von The D4 im Feierwerk.

No Parachutes for Coldplay, 10.11.2002
Unfortunately I missed Idlewild, no pictures but I got three of Coldplay live at the Zenith, not too bad, or? This hall is already huge, but where will Chris Martin and the band play the next time when they come around here in Munich?

Dover Rock aus Spanien, 22.10.2002
aus dem Backstage kommen folgende Bilder: She Male Trouble, Flyswatter und der Rockexport aus Spanien Dover.

Spanish Dover, 22.10.2002
From the new Backstage are following pictures: She Male Trouble, Flyswatter and the first class kick ass "rock export" from Spain: Dover.

Mighty mighty Punk Rock (Ska) Paket 19.10.2002
Angefangen haben Pipe Dream, dann gab es Snuff und die Anzugträger von The Mighty Mighty Bosstones.

And again a Punk Rock (Ska) Package. 19.10.2002
It started with Pipedream, followed by SNUFF and ended with The Mighty Mighty Bosstones, all this at the Elserhalle in Munich.

Elektro-Punk-Alec 15.09.2002
Krach auf die Ohren gab es von Alec Empire und seinen Jungs. Fotos aus dem Backstage.

The Alec Empire strikes back, 15.09.2002
Noise and Rock for the ears. A "like it or suffer" program in the new Backstage from Alec Empire and his gang. Way back he was testing us with Atari Teenage Riot and now solo.

Deutschpunk, D.H. mit Düsenjäger durch den Turbostaat 29.08.2002
Im Kafe Kult gab es folgendes Punk Rock Paket: D.H., Turbostaat und Düsenjäger. Das Ganze nicht ganz so groß wie Reading, aber genauso gut.

German Punk 29.08.2002
At the Kafe Kult a package full of Punk Rock: D.H. , Turbostaat and Düsenjäger. The whole thing not really as big as Reading but still as good.

This is Reading England 23 / 24 / 25.08.2002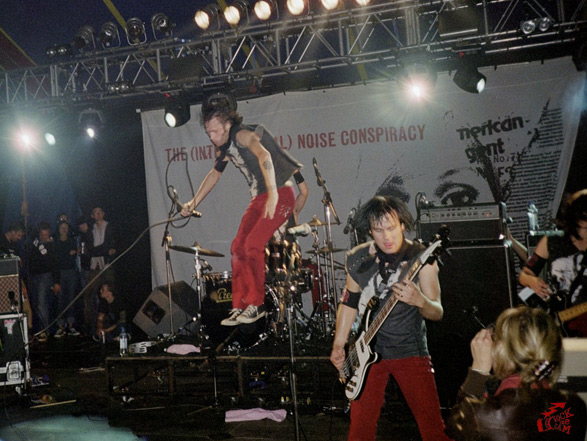 Wow, ich habe endlich die erste Alien Sex Fiend Single gefunden, nach Jahren der Suche für poblige 2 Pfund in der Kruschtkiste, der Höhepunkt! Weitere Höhepunkte gibt es hier: The Moldy Peaches, Pretty Girls Make Graves, The Soundtrack Of Our Lives, The Kills, Guided By Voices, Peaches, The White Stripes, Ladytron, Jane's Addiction (nachdem die vor Jahren den Auftritt abgesagt hatten und sich dann um mich und viele Andere zu Ärgern, auflösen mussten), ein Spitzenbild von The Strokes (hehehe), Aphex Twin, Polyphonic Spree, The D4, Dashboard Confessional, Muse beim Autogrammzelt, Rival Schools, The Cooper Temple Clause, Span, Jon Spencer Blues Explosion, The (International) Noise Conspiracy (Jumps!!!), Jimmy Eat World, Black Rebel Motorcycle Club, Sparta, Jetplane Landing, The Shining, Haven, Maximum Roach und And You Will Know Us By The Trail Of Dead
Reading Festival madness 23 / 24 / 25.08.2002
Wow, the first highlight was finding the first Alien Sex Fiend 7"-Single. After years of hunting it down. And the price: 2 Pounds, that's nothing. And a lot of other highlights followed: The Moldy Peaches, Pretty Girls Make Graves, The Soundtrack Of Our Lives, The Kills, Guided By Voices, Peaches, The White Stripes, Ladytron, Jane's Addiction (years before they cancelled their show at the Reading Festival and shortly afterwards they have split up, not allowing me to see them, great!). A fantastic picture of The Strokes (yes somewhere on the screen, thanks Rock The Cam you really have a good eye for the situation) Aphex Twin, Polyphonic Spree, The D4, Dashboard Confessional, Muse at the signing tent, Rival Schools, The Cooper Temple Clause, Span, Jon Spencer Blues Explosion, The (International) Noise Conspiracy (Jumps!!!), Jimmy Eat World, Black Rebel Motorcycle Club, Sparta, Jetplane Landing, The Shining, Haven, Maximum Roach and the boys from Texas And You Will Know Us By The Trail Of Dead.
Das Theatron ruft, 18.08.2002
und Zombie Nation elektronisiert für die Leute und mich. Solange die Frisur stimmt… In ein paar Tagen geht es mal wieder nach England auf das Reading Festival. Geil, Platten kaufen, im Regen stehen und Bands anhören.
Theatron is calling, 18.08.2002
And Zombie Nation electrified the crowd and me. As long as the haircut is all right…And in a few days I will take a trip to England to hang around in the cold, dirt and rain at the Reading Festival. Don't forget the record shopping (Vinyl rules).
Ya*hoo – neue Konzertbilder, 02.08.2002
Folgende Bands habe ich im Brückel ? abgelichtet: The Commandos und Yahoo, welche übrigens den Nachwuchs zur richtigen Musik führen, seht selbst!
new photos, 02.08.2002
Following bands played in a place called Brückel, or Brückl or whatever. The Commandos and Ya*hoo, who gave a lesson of Rock'n'Roll to the youth, but watch yourself!
Kontrastprogramm mit Dillinger 4 25.06.2002
Im Kafe Kult spielten auf: Last Mile (ich glaube aus Groningen Holland) und Dillinger Four, leider ist mir da die Batterie verreckt, peinlich.
Dillinger 4 on their Last Mile, 25.06.2002
From thousands of people to a few. Kafe Kult was giving the stage to Last Mile (I think from the Netherlands) and to Dillinger Four and shame on me, my battery committed suicide, therefore just one picture…embarrassing.
Sonne, Luft und viele Menschen Southside Festival 22 / 23.06.2002
Auf dem Southside Festival habe ich leider nicht alles knipsen können, was ich wollte. Zuviel und zu hektisch…. Es gibt Madrugada, Die Ärzte, Red Hot Chili Peppers, And You Will Know Us By The Trail Of Dead, Rival Schools (Herr Schreifels ist mir voll in die Fresse gesprungen, zum Glück hat es Brille und Kamera überlebt) und die Jungs vom Black Rebel Motorcycle Club.
Sun, air and lots of people at the Southside Open Air 22 / 23.06.2002
Southside Festival and damn, I wasn't able to take pictures of all the bands I wanted to. So little time, so much to do and I hate if good bands are playing at the same time. Anyway Rock The Cam presents: Madrugada, Die Ärzte, Red Hot Chili Peppers, And You Will Know Us By The Trail Of Dead, Rival Schools (Mr. Schreifels jumped right into my face, by chance my glasses and the camera survived) and Black Rebel Motorcycle Club. It was a hard but a good weekend!
Abschied, Neuanfang mit Sparta? 29.05.2002
Nachdem sich At The Drive-In ja leider aufgelöst haben, kommt hier ein Bestandteil der alten Band auf die Bühne zurück. Sparta im New Backstage. Und jetzt dann geht es auf das Southside Festival, mal schauen wen ich mir da alles vor die Kamera holen werde? Mit dabei sollen z.B. sein: The Promise Ring, Beatsteaks, Rival Schools, Black Rebel Motorcycle Club, Gluecifer, A, Madrugada, The International Noise Conspiracy, The Notwist und so Schwergewichte wie New Order, Die Ärzte, und Red Hot Chili Peppers…
Fare well, new beginning? 29.05.2002
After the split of At-The Drive In some members came back with a new band. Sparta live at the new Backstage. And soon I will go to the Southside Festival. Let's see whom I can catch. The line up reads as following: The Promise Ring, Beatsteaks, Rival Schools, Black Rebel Motorcycle Club, Glucifer, A, Madrugada, The International Noise Conspiracy, The Notwist and big names like New Order, Die Ärzte, Red Hot Chili Peppers….yeah sounds like a lot to see and even more to hear.
To hell with good intentions, 26.05.2002
Bilder aus dem Neuen Backstage von Mclusky aus Cardiff, welche Ihre Singles bei Too Pure unter das Volk bringen. Die werden noch Größer…
My Pain And Sadness with Mclusky, 26.05.2002
Photos from the new Backstage with Mclusky doing their great gig. Their singles are out on Too Pure. They will get bigger…
Ready Made Fotos, hat geklappt. 20.05.2002
vom wunderschönen Theatron Festival im Olympiapark in München: Readymade Bilder hier für Dich bei Rock The Cam.
Readymade at the Theatron 20.05.2002
It worked out. Pictures of Readymade at the Theatron Festival at the Olympiagelände here for you on Rock The Cam.
Wiedersehen mit Tigerbeat, 19.05.2002
die hatten wir doch schon einmal, diesmal zum Glück etwas Näher, Tigerbeat live beim Theatron Festival. Sehr schöne Sache, das Theatron und auch Tigerbeat. Mal schauen ob es morgen mit Readymade klappt?
Hello again Tigerbeat 19.05.2002
I already "had" them in front of my camera, but this time just around the corner. Tigerbeat live at the Theatron Festival. A nice event and hopefully I will make it to Readymade tomorrow.
Kid, kill Your Loco Darlings. 13.05.2002
Ob die Musik auch live funktioniert? Kid Loco haben es meiner Meinung nach geschafft. Aus der Muffathalle kommen die aktuellsten Bilder.
Kid Loco, 13.05.2002
Will this kind of music work out live? In my opinion Kid Loco made it work. The latest photos from the Muffathalle.
Looking through Gary Gilmore's Eyes. 05.05.2002
Nachdem The Adverts Punk Rock Geschichte geschrieben haben, altert TV Smith in Würde! Nicht peinlich, nicht kommerziell, einfach nur gut, obwohl ich Ihm das Bored Teenagers nicht mehr ganz abnehme… Bilder aus dem Substanz.
Useless TV Smith? 05.05.2002
After writing punk rock history with The Adverts, T. V. Smith solo and far away from retirement. Not embarrassing, not commercial, just good, however I don't take his Bored Teenagers for granted anymore. Pictures from a place called Substanz in Munich.
Mit Godspeed weiter Richtung Black Emperor, 10.04.2002
zur Abwechslung mal Fotos aus dem Feierwerk, da waren Godspeed You Black Emperor zugange. Leider nur zwei Bilder, ich weiß aber nicht mehr warum…
And on with Godspeed You Black Emperor, 10.04.2002
for a change of settings, this time the Feierwerk and just two pictures, don't ask me why, but still better then none: Godspeed You Black Emperor
Fu Manchu's Stoner Rock, 09.04.2002
und wieder beherbergt das Backstage eine großartige Band, die nun kurzhaarigen Fu Manchu aus USA. Der Monat macht mich bald pleite…
Germany crossing with Fu Manchu, 09.04.2002
And again the Backstage hosts another great band, Fu Manchu live to support their California Crossing album with their interpretation of stoner rock. This month is killing me…
Hallo A, 03.04.2002
ein Buchstabe sorgt für volles Haus, im Backstage auf der Bühne: A
A Hello, 03.04.2002
Just a simple letter brings a fully packed club: A on stage at the Backstage on their Hi-Fi Serious tour.
Die Lords in München, 01.04.2002
ein "großer" Name stoppt in München: Lords Of The New Church und davor spielten Cascades im Backstage. The Lords are coming, mehr davon hier.
LOTNC in Munich, 01.04.2002
Another big and old name in Punk Rock stops in Munich: Lords Of The New Church and before it was Cascades. The Lords are coming to the Backstage and here you find pix from the gig.
Hallo doppel Aktion, 30.03.2002
Double Action live im Englischen Garten, ganz geile Aktion, die Erholungssuchenden zu beschallen…
Not just Action 30.03.2002
but Double Action live in the English garden. Cool action to bring the gift of music to the ones not really looking for.
Tigerbeat 27.03.2002
Schade, konnte die Band leider nicht im Club2 anschauen, also ab nach Augsburg und dabei das Kerosin kennen gelernt. Fotos von Tigerbeat gibt es auf der Seite, wo Du bist!
beat the Tiger, Tigerbeat 27.03.2002
What a pity, I could not make it to their gig at Club2. So what to do? Going straight to Augsburg and checking out Tigerbeat and the Kerosin-Club on this trip.
Club2 Besuch mit Ellnog 28.02.2002
Zum Glück durfte ich den Club2 noch erleben, leider nicht allzu lange. Bilder von Ellnog live auf der Bühne.
Club2 show 28.02.2002
Lucky me, I was able to attend the Club2, unfortunately not for long, but still I made it sometimes. Here for photos from Ellnog.
Bilder aus der Schweiz mit The Notwist für Euch! 24.02.2002
In der Roten Fabrik in Zürich spielten The Notwist. Komisch da zieht man nach Bayern, um die dann im Ausland zu sehen…
A trip to Switzerland for me and The Notwist! 24.02.2002
The Notwist were playing the Rote Fabrik in Zürich. Strange, one is moving to Bavaria to watch a band from Bavaria in a foreign country.
BRMC und Hallo Atomic Cafe, 18.02.2002
kurz vor dem Umzug nach München, mein erstes Konzert im Atomic Cafe. The Vue durften für eine geile Band eröffnen: Black Rebel Motorcycle Club. Bilder auf die Frage Whatever happened to my Rock'n'Roll gibt es hier.
Hello B.R.M.C. and Atomic Cafe, 18.02.2002
Shortly before my shift to Munich I was joining my first concert in the Atomic Café. First class address for live action! The Vue started for a really cool band: Black Rebel Motorcycle Club. Pictures to the question "Whatever happened to my Rock'n'roll?" you find them here.
Grüß Gott in Baden, 15.02.2002
Heute kommen die Bilder aus dem Cubus in Karlsruhe und zwar von der Band Rheinhafen und von DJ Ethna.
Sunny spoiled Baden, 15.02.2002
Today's pictures are taken in the Cubus in Karlsruhe, live on stage were Rheinhafen and DJ Ethna. Oh Karlsruhe, located in Baden, the sunny part of Germany!
Die Mission und Kirk Brandon 09.02.2002
Alten Helden spielen auf: The Mission und davor Kirk Brandon im alten Backstage. Live Bilder hier. Soviel ich es noch richtig habe, waren das die Songs von The Mission: Tadeusz/ Evangeline/ Hands Across The Ocean/ Like A Child Again/ Lust/ Severina/ Dragonfly/ Never Again/ Trophy/ The Grip Of Disease/ Beyond The Pale/ Swoon/ Shine Like The Stars/ Wasteland/ Daddy Is Going To Heaven Now/ Butterfly On A Wheel/ Never Let Me Down/ 1969/ Wake/ Tower Of Strength/ Deliverance
The Kirk Brandon Mission 09.02.2002
Old heroes visited the old Backstage in Munich: Wayne Hussein with The Mission. Before the goth rock / pop lesson it was Kirk Brandon playing.
Und mit Cornershop der Zeitsprung, 07.02.2002
Vor der Linse: die Briten Cornershop live im Feierwerk auf der Handcream For A Generation – Tour. Irgendwie geht jetzt wohl der Grundstein für Rock The Cam los, ab jetzt ist die Kamera (die geile, alte, ranzige, doch immer treue Olympus mju 1) eigentlich immer mit auf Konzerten.
A little Cornershop time warp, 07.02.2002
Cornershop live at the Feierwerk in Munich on their Handcream For A Generation – Tour. With this concert the basement for Rock The Cam was made. From now on, my lovely photo-machine (the cool, old but brave mju1) always went with me to dance to Brimful of Asha.
Bilder Bilder! Baffdecks 31.10.2001
Habe hier noch Fotos von den Baffdecks (Hardcore Punk aus dem Raum Karlsruhe) gefunden, denn leider habe ich das Fotografieren von Bands erst viel später angefangen (manchmal glaube ich zu spät…) Live in den Katakomben in Karlsruhe.
Baffdecks pictures and photos! 31.10.2001
Here I found pictures from the Baffdecks. Unfortunately I started far too late to take my camera with me to concerts… Anyway, here you can see Hardcore played in the Katakombe in Karlsruhe.



2020 2019 2018 2017 2016 2015 2014 2013 2012 2011 2010 2009 2008 2007 2006 2005 2004 2003 2002