Lucia Licht des Nordens 13.12.2013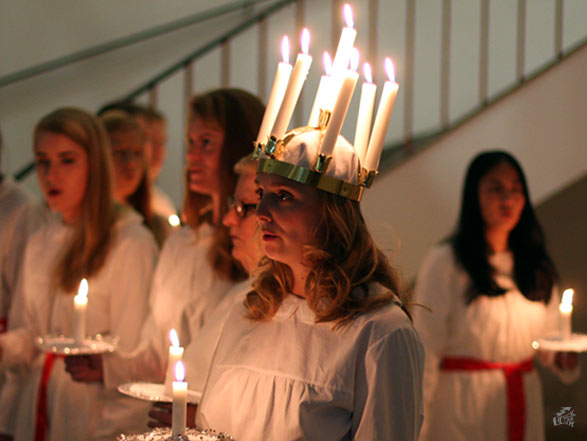 Mal etwas anderes: Der Luciachor München hat für mich in der TUM gesungen. Zum Ausklang des Jahres darfs auch mal ruhiger sein.
At the end of the year some calm music to come down for 2013. It was Der Luciachor München singing Swedish songs, I guess about Lucia.
Barb Wire Dolls 29.10.2013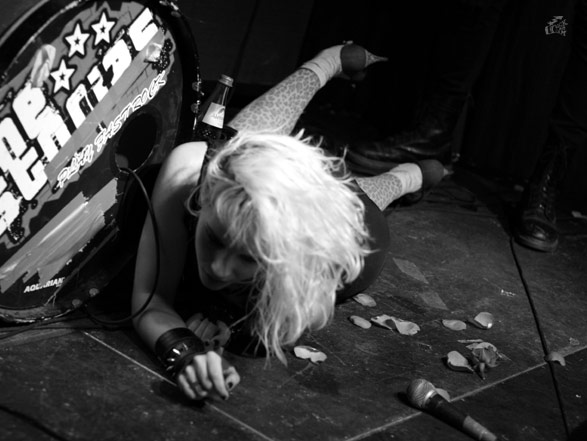 Punk Rock Live Energiewalze in der Glockenbachwerkstatt in München. Begonnen hat Step by Step, gefolgt von Dollars For Deadbeats und dann der Kracher: Barb Wire Dolls. Mit Interview.
Punk Rock Revolution 29.10.2013
Live energy at the Glockenbachwerkstatt in Munich with Barb Wire Dolls. They sold the place out and kicked it! Step By Step came first, followed by Dollars For Deadbeats and then Barb Wire Dolls. Did an interview with Isis Queen as well.
Between New Model and Army 20.10.2013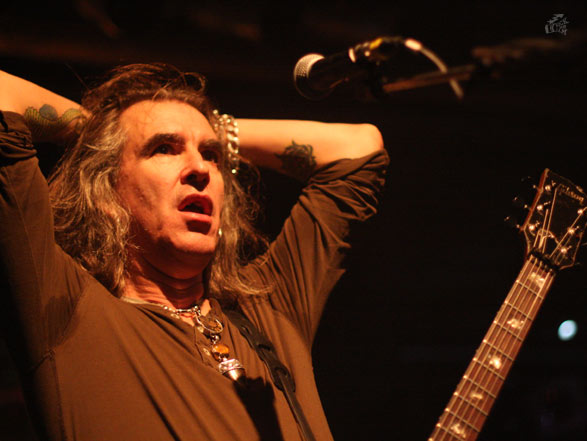 Die Glückspilze von Bomb Whateva, die durften für New Model Army eröffnen. Der Glückspilz, ich, denn ich durfte NMA mal wieder live genießen. Ich mag die Band einfach!
Between Dog and Wolf – NMA 20.10.2013
Finally back in Munich and luckily I was able to join, cause a New Model Army concert is always a good moment in life. Bomb Whateva? did play first and then came Justin Sullivan and his band and what should I write? A good moment in life.
In Barcelona: God Is An Astronaut 07.10.2013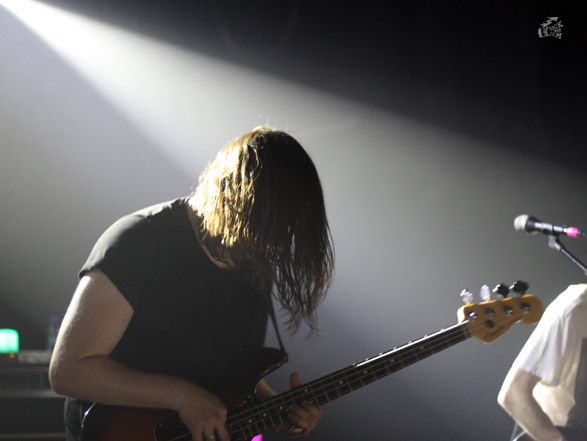 Ach schon wieder so viele "zum Ersten mal": das erste mal in Barcelona, das erste mal die Music Hall und das erste mal God Is An Astronaut, gerne auch alles nochmals zum zweiten mal!
GIAA live in Barcelona 07.10.2013
My first time in Barcelona and hey I was able to catch God Is An Astronaut live at the Music Hall, hola!
Ruts DC und The Tips 21.09.2013
Babylon's Burning, ach wie habe ich das Lied nach dem ersten Hören gesucht (damals ohne Internet) und wie war ich glücklich als ich herausbekommen habe von wem das Lied ist und dann? Dann gab es Whatever we do, noch so ein Hit, aber welch Freude, ich durfte Ruts DC live erleben. Im Feierwerk zu München, zum Beginn gab es The Tips.
Munich Burning with the Ruts DC 21.09.2013
You know the times before internet? I heard Babylon's Burning and nobody could tell me from which band this is. It took me a long time to find it out. Then later there was Whatever We Do, another hit. But best is the Ruts DC came to Munich and I was able to see them live, nice concert. Opening act were The Tips.
Turbulence & Warrior King 26.08.2013
Das wird nicht gerade mein Festa, so viele Bands verpasst, aber immerhin habe ich meine begrenzte Musikwelt erweitert und mir Reggae eingebaut. Auf der Bühne in Brescia spielten Turbulence und Warrior King.
Warrior Turbulence King 26.08.2013
Missed sooooo much this year at the Festa but I made it at least a second time there. On this rainy (what is going on, rain at the Festa?) Monday I went to see Turbulence and Warrior King, pushing my knowledge of Reggae.
Festa Festa Festa in Italia 18.08.2013
Den guten Jello habe ich im Feierwerk verpasst (böse!!!), dafür habe ich es auf das Festa di Radio onda d'urta in Brescia geschafft. Dort durfte ich den Konzertabend mit vielen Italienern und der Band Flogging Molly feiern.
Flogging Molly in Italy 18.08.2013
Yes you can see Flogging Molly in many countries, but I went to Italy to the Festa di Radio onda d'urta to see them live!
Theatron mit Captain Capa 08.08.2013
Endlich habe ich es mal wieder auf das Theatron Festival geschafft. Immer wieder schön und immer wieder toll, die Bands sind sogar (fast) sekundär. Diesmal durfte ich mir vor dem großen Feuerwerk Captain Capa anschauen und ein paar Konzertbilder vom Auftritt machen.
Captain Capa at the Theatron 08.08.2013
Always a pleasure the Theatron festival and unfortunately it took me quite a long time to make it there again. This time I was able to catch Captain Capa before the big firework started and lightened the Olypiapark in Munich.
Geküsst von Black Lips 04.07.2013
Und drauf: Die Black Lips waren in der Stadt und Rock The Cam hat einige Bilder für Euch gemacht. Aufgespielt haben die Jungs im Strom und bis zum nächsten mal.
Kissed by Black Lips 04.07.2013
In July I made it to the Black Lips. They played at Strom and lucky me I was able to take some pictures.
Modern Pets machen mich Nervöus 05.06.2013
Urggg, nach einem Mai mit einer (schmerzenden) Liste an verpassten Events (Melvins, Frank Turner, Motorpsycho, Addicts…) hat der Juni mal richtig gut angefangen. Im Kafe Kult gaben Nervöus dem Publikum die Ehre, gefolgt von den Modern Pets die den Punkrock Stützpunkt in München gerockt haben.
Kafe Kult showing Modern Pets 05.06.2013
Missed everything in May but finally in June I made it again to some Punk Rock event. At the Kafe Kult in Munich it was Nervöus playing together with Modern Pets.
Monster Bash 26.04.2013
Braucht München ein (weiteres) Punk Rock Festival?
Ja was weiß ich denn. Das Monster Bash spielte nicht nur in Berlin auf, nein auch das Kesselhaus und das Zenith in München waren dran. Mir hat es gefallen und hier mal so einige Namen (leider konnte ich nicht alle sehen) vom Line-up: Polar Bear Club, Title Fight ,The Story So Far, Millencolin, Less Than Jake, Tim Vantol, AC4, Flag, A Wilhelm Scream, Pennywise, Rise Against.
Monster Bash with Tim, Flag, Wilhelm, Penny, Rise and others 26.04.2013
Big Punk Rock festival in Munich called: Monster Bash, lots of bands, unfortunately I was not able to see them all. Here are some I was able to take pictures of: The Story So Far, Millencolin, Tim Vantol, Flag, A Wilhelm Scream, Pennywise and Rise Against.
Trail Of Dead plus Ribozyme 12.04.2013
Na im April geht es ja jetzt mal Schlag auf Schlag, ja das sollte es eigentlich öfters tun. Eine Livegranate …And You Will Know Us By The Trail Of Dead im Strom und mit dabei waren Ribozyme und The Coathangers.
AYWKUBTTOD 12.04.2013
When And You Will Know Us By The Trail Of Dead are coming to town, I try to be there! Always intense live events what they present, so it was this time at the Strom venue. Before ToD started I was able to catch The Coathangers and Ribozyme.
Black Rebel Motorcycle Transfer Club 05.04.2013
Da war ich ja mal aufgeregt, denn den Black Rebel Motorcycle Club habe ich schon lange nicht mehr live gesehen. Endlich neue Platte und neue Tour. Als Vorband von BRMC spielten Transfer, mei war das schön das Konzert in der Tonhalle in München.
Back in Black: BRMC 05.04.2013
Finally! New record and as well a new tour: Black Rebel Motorcycle Club back in Munich and luckily I was able to join. I like this band and it was another good concert. The opener at the Tonhalle was Transfer.
Rocking in the Yardbird 20.03.2013
Durch Zufall bin ich in Birmingham gelandet und als ich abends durch die Stadt marschiert bin, hat mich das Yardbird in sein Inneres gezogen. Dort durfte ich dann Blue Nation live sehen, gefolgt von The Mourning Suns.
UK is rocking me at the Yardbird 20.03.2013
When I was in Birmingham (UK) I took a walk through the city and a placed called Yardbird dragged me in. On stage I saw Blue Nation followed by The Mourning Suns.
State Radio and The Skints 08.03.2013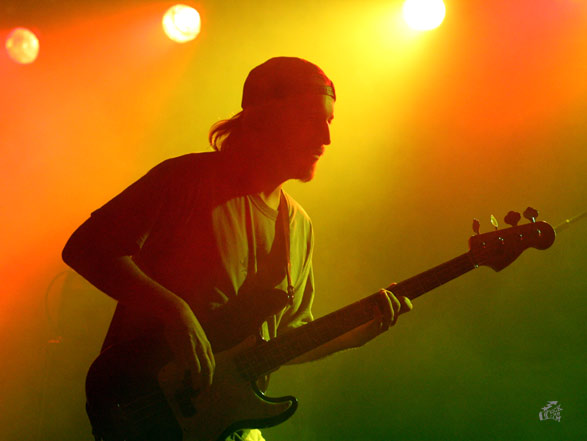 Mist, habe Michael Rose verpasst und noch so ein paar andere, aber dann: State Radio haben das Backstage in München gefüllt und hatten als Anheizer The Skints dabei. Das Paket bedeutete einen schönen Konzertabend nicht nur für mich.
Backstage with State Radio and The Skints 08.03.2013
A packed Backstage and whom did I see? It started with The Skints and headliner was State Radio, nice package.
Om mit Janin Devi 23.02.2013
Das war etwas Neues für Rock The Cam: ein Yogakonzert! Im Jivanukti Yogaloft in München spielte Janin Devi auf mit Band.
Om concert with Janin Devi 23.02.2013
Something new for Rock The Cam: a yoga concert. It was Janin Devi and band rocking the Munich yoga world.
Doppelpunkauftakt mit TV Smith und UK Subs 19.02.2013
Im Januar mal wieder alles verpasst, aber dann im Februar mit TV Smith ins neue Jahr gestartet. Dabei waren die UK Subs und wie immer (bei beiden) hat es ordentlich Spaß und Punk Rock im Feierwerk gemacht.
Starting with TV Smith and UK Subs 19.02.2013
I missed all the shows in January and finally in February I started the 2013 concert year with TV Smith. He was playing in the Feierwerk together with UK Subs and it was a nice Punk Rock event to start with.



2020 2019 2018 2017 2016 2015 2014 2013 2012 2011 2010 2009 2008 2007 2006 2005 2004 2003 2002