Calexico Blind Pilot 29.11.2012
Obwohl im November, war das Calexico Konzert mein Adieu 2012 Konzert. Begonnen in der Muffathalle haben Blind Pilot, welche schon ziemlich gut angekommen sind und dann machte Calexico einfach alles richtig! Mit dem neuen Album Algiers dabei, gab es einen musikalischen Hochgenuss und einfach einen super Auftritt.
No te vayas Calexico 29.11.2012
There is a new album out from Calexcio called Algiers. There is a tour from Calexico. There is a stop in Munich. There is an opening band called Blind Pilot. There is a lucky Rock The Cam going to the show. There are soon pictures of this great event here for you. There is an advice: go get their stuff, go see Calexico live!
Everything Muse 12.11.2012
Eine richtig große Nummer sind Muse geworden und somit habe ich mich das erste Mal in die Olympiahalle begeben, denn kleiner Läden war früher. Begonnen hat der Bombast mit Everything Everything, die meiner Meinung nach aber bei der Dimension irgendwie untergegangen sind. Dann kamen Matthew Bellamy, Dominic Howard und Christopher Wolstenholme auf die Bühne und das Spektakel hat begonnen. Was für eine Welt, ist schon alles ziemlich gigantisch.
Muse again 12.11.2012
Being a big player in the music biz (not me, but Muse), I went the first time to the Olympiahalle in Munich, cause you do not see Muse in small arena's anymore. The concert started with a band called Everything Everything which got lost in this venue. And then Matthew, Christopher and Dominic took the stage and what a gigantic dimension this spectacle was, running with the big dogs, that's what Muse do!
Ein Kracher: Refused 02.10.2012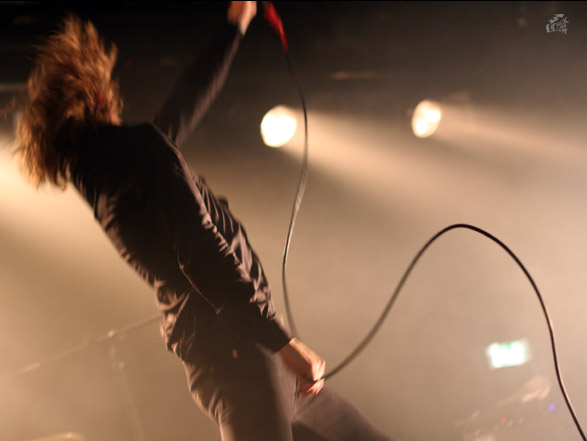 Das war mal eine Ansage, Refused are fucking back! Und was das Ganze noch richtig schön machte, auch live in München! Die Terrible Feelings durften zuerst auf die Bühne und dann haben uns/mir Refused gezeigt, warum Sie auf Platte gut sind (wer Refused nicht kennt, einfach mal in The Shape of Punk to Come reinhören) und live einfach noch besser: weil Refused einfach eine klasse live Band ist/war/sein wird? Danke dass ein Konzerterlebnis nochmals möglich war. Die Refused Konzertfotos gibt es hier.
Refused in Munich 02.10.2012
What an announcement: Refused back on the stage and on tour! Luckily they played Munich as well and whatever, Refused were not fucking dead! Not this time! The opening act was Terrible Feelings and then Dennis Lyxzén, David Sandström and the rest of the gang kicked the stage. I'm really happy that I was able to photograph them live and hey, what a concert!
Vier gewinnt 28.09.2012
Das Backstage hatte einiges vor an diesem Abend, leider alles sehr früh. Es gab Into It. Over It. und ich habe dies durch die Kindergartenbeginnzeit leider verpasst (da ich IIOI nicht kenne, kann ich nicht beurteilen, ob ich mich ärgern oder richtig ärgern muss). Dann gab es Make Do And Mend und ich habe dies durch die Kindergartenbeginnzeit leider verpasst (was mich schon richtig ärgert). Mit neuem Album am Start und zurzeit hoch gehandelt dann Title Fight und Ihr erratet es: leider durch die Kindergartenbeginnzeit fast verpasst (was mich ebenso richtig ärgert, denn das letzte Drittel vom Konzert -was ich glücklicherweise sehen durfte- hat mir gut gefallen). Immerhin konnte ich den Headliner La Dispute komplett bewundern (alles andere hätte mich aber mal so richtig geärgert) und somit hat das madige Gefühl immerhin einen guten Abgang bekommen.
La Dispute, Title Fight, MDAM, IIOI 28.09.2012
Lots of interesting names on the setlist for this evening. It started with Into It. Over It. followed by Make Do And Mend, unfortunately I missed both of them cause the show started too early (really annoying). Even for Title Fight I was too late, but fortunately I could get the rest of their show. Luckily I was able to be part of the whole La Dispute set and it saved my mood for this evening.
Imperial Smoke State Mohawk Electric 25.09.2012
Das 59:1 hatte an diesem Septemberabend zwei Bands aus dem hohen Norden im Programm: es gab Smoke Mohawk und Imperial State Electric. Beides Bands mit Mitgliedern aus verschiedenen Größen aus dem Genre Schweinerock und hey das war es auch, guter, dreckiger Rock!
Rock from Scandinavia 25.09.2012
Did you ever hear the name Danny Young or Rolf Yngve or Nicke Andersson or Dolph de Borst? No? You better get on a famous search engine and look for Gluecifer, Hellacopters, Datsuns.
Yes? Fine, cause this evening and these concert pictures come from the Smoke Mohawk and Imperial State Electric show in Munich at the 59 to 1 club. Rock!
Tricky 21.08.2012
Mein zweiter Besuch beim Radio onda d'urta Festival (und leider auch für dieses Jahr mein letzter) war bei Tricky. Bekannt für seine Solokarriere und natürlich auch aus seinem Leben mit Massive Attack. Ist nicht ganz mein Musikstil (wird oft unter Bristol Trip Hop geführt), war aber live durchaus sehens- und höhrenswert, Tricky halt.
Tricky Italy 21.08.2012
My second visit to the fantastic Festa di Radio onda d'urta in Italy. With me on stage was Tricky. Although it is not really my most preferred music genre (some file it underneath Trip-Hop), I liked the concert. Interesting evening and Tricky made it a good one, funny with all these people on stage…
Sick Of It All, Raw Power, A Wilhelm Scream 16.08.2012
Freude, mal wieder mein gern besuchtes Festa di Radio onda d'urta in Italien. Beim Appetite for Hardcore Fest gab es ordentlich etwas auf die Mütze und vor die Kamera. Es spielten die Aufsteiger A Wilhelm Scream, die italienische HC Legende Raw Power und Sick Of It All aus NYC. Bene! Bene!
Appetite for Hardcore Fest 16.08.2012
This Hardcore fest took place at the Festa di Radio onda d'urta in Italy (Brescia) and I was able to see, listen and to take photos of A Wilhelm Scream, Raw Power and Sick Of It All, nice package – and although I repeat myself: nice place, nice weather, nice festival!
Saint Crowbar Vitus 12.07.2012
Da freute ich mich mal wieder, denn die Children of Doom waren mal wieder in München. Saint Vitus sogar mit neuem Album am Start und als Vorband beim Konzert im Backstage waren die alten Recken von Crowbar mit dabei.
Doomed St. Vitus 12.07.2012
The gods of doom metal Saint Vitus were to stop for a show in Munich and Rock The Cam joined that event. It was Crowbar opening and then Wino and Dave and Mark and Henry came out to perform their slow metal Saint Vitus celebration and their new album Lillie: F-65.
Hurricane Festival in Scheeßel 22 / 23 / 24.06.2012
Jetzt gab es die große Bühne in der großen, weiten Welt. Glückliche Umstände haben mich zum Hurricane Festival gebracht und das heißt: harte Tage, viele Bühnen, viele Kilometer, viele Bands und yuhuuuu viele Fotos. Sehr anstrengend, aber auch sehr geil! Den Regen hätte es nicht gebraucht, aber der scheint ja im hohen Norden mit im Eintrittspreis dabei zu sein. Schon eine Ansage das Festival und ich hoffe das eine oder andere Konzertfoto taugt Euch, also jetzt aber ran an die Bilder von: The Cure, Pennywise, Broilers, Hot Water Music, The XX, The Bronx, Disco Ensemble, Royal Republic, Sportfreunde Stiller, Capser, Bosse, La Dispute, Bombay Bicycle Club, Hoffmaestro, Less Than Jake, The Shins, Bat For Lashes, Lagwagon, K.I.Z., Boy, Kraftklub, M.Ward, Kakkmaddafakka, GusGus, Band Of Skulls, Eastern Conference Champions, The Floor Is Made Of Lava, Turbowolf, New Order, Switchfoot, Garbage, Justice, Mumford & Sons, Bonaparte, Rise Against, Wolfmother, Florence + The Machine, The Dø, Eagles Of Death Metal, The Kooks, Katzenjammer, The Mars Volta, LaBrassBanda, Die Antwoord, Frank Turner & The Sleeping Souls, Zebrahead.
Open air madness at the Hurricane Festival 22 / 23 / 24.06.2012
The big world took Rock The Cam to a big festival, I was lucky to get to the Hurricane Festival in the North of Germany (Scheeßel) means: hard festival days, lots of different stages, lots of miles to walk, lots of bands and hey ho, lots of concert pictures. Exhausting but wicked!!! I would have gladly missed the rain, but it seems to be included in the ticket. Anyway, it was a quite impressive event and hopefully you find some of the photos as well impressive, check the list of bands above.
Palo Santo Konzert am Odeonsplatz 10.06.2012
Streetlife Festival und am Odeonsplatz gab es Palo Santo auf der Bühne. Das war bei mir eher Zufall und leider konnte ich nur ein Teil des Palo Santo Auftritts sehen und hier sind die Bilder dazu.
Palo Santo live at the Streetlife Festival 10.06.2012
Palo Santo did perform at the Streetlife Festival and luckily I could see a part of their performance and now you can see here the pictures of the Palo Santo gig.
Mudhoney kamen mit RFTT ins Feierwerk 24.05.2012
Zwei "Legenden" bespielten das Feierwerk in München. Einmal die nicht für nix totgeglaubten Rocket From The Tombs gefolgt von den Grungegöttern (kann man das so stehen lassen?) Mudhoney. Schon ein tolles Line Up!
Rocket From The Tombs vs. Mudhoney 24.05.2012
Still alive or reanimated – whatever, it was Rocket From The Tombs playing the Feierwerk in Munich. After this gig there was another not dead (luckily for me and you and all of us) band: Mudhoney. And let me tell you, thanks for letting me be there.
No Strange Problem Attractor 12.05.2012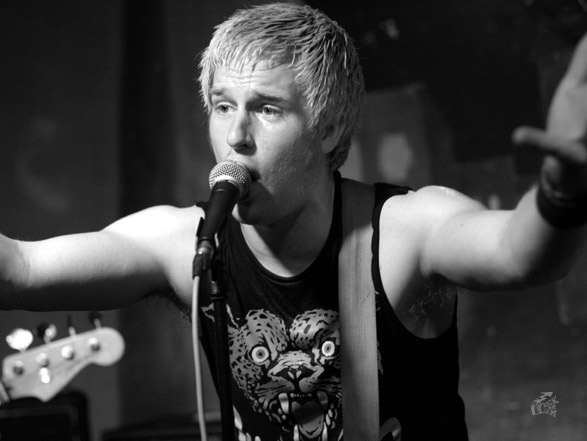 Es geht weiter mit den Bands aus Kanada und dem Kafe Kult und mir. Dieses mal gab es Hardcore Punk mit No Problem gefolgt von der Band Strange Attractor.
No Problem – Strange Attractor 12.05.2012
It was another evening with live music at the Kafe Kult. This time I was able to catch No Problem from Canada and another band that is called Strange Attractor. I am sure that I will be back.
Laut.Stark mit Ron Jambo 01.02.2012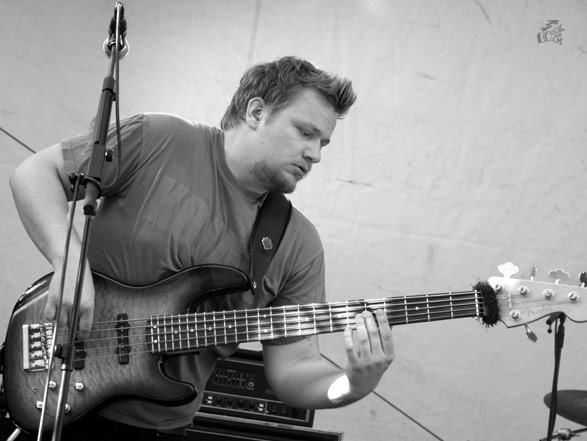 Auf dem Marienplatz gab es das laut.stark.12 Open Air Fest. Mit dabei waren Ron Jambo, The Brufios, Borke & Pheel und Les Babacools. Ich konnte nur Ron Jambo sehen und vom Auftritt Fotos machen, den Rest habe ich leider verpasst.
Ron Jambo – laut.stark 01.05.2012
There was the laut.stark.12 open-air at the Marienplatz. The line-up was Ron Jambo, The Brufios, Borke & Pheel and Les Babacools. Unfortunately I was just able to see the gig from Ron Jambo cause I had to leave earlier.
Kanada² – Sonic Avenues + Steve Adamyk Band 26.04.2012
Steve Sonic Adamyk Avenues Band 26.04.2012
Heute hat mir das Kafe Kult Kultur aus Kanada gebracht, zuerst gab es die Steve Adamyk Band und darauf spielten Sonic Avenues. Schönes Programm mal wieder.
Steve Sonic Adamyk Avenues Band 26.04.2012
Today the Kafe Kult had two bands from Canada on stage. It started with the Steve Adamyk Band and after they played a great gig Sonic Avenues took over and rocked as well. Nice program!
Dean Dirg verpisst im Kafe Kult 31.03.2012
Das war mal eine Konzertansage im Kafe Kult, 9 EUR und drei Bands. Begonnen haben Volxverätzung aus irgendwo in Bayern (?), dann haben The Rancors aus München eine Plattenreleaseshow gespielt, gefolgt von Dean Dirg aus Münster oder Wuppertal oder sonstwo im Norden. War echt gut und der Laden auch knallevoll, schöner Abend.
Kafe Kult concert with Dean Dirg 31.03.2012
Three bands at the wonderful Kafe Kult. The concert started with the band Volxverätzung, followed by The Rancors and ended with the great Dean Dirg.
City Slang schickt uns Waters und Nada Surf 25.02.2012
Im ausverkauften Backstage in München gab es an diesem Abend die Band Waters und dann haben Nada Surf gezeigt warum sie so lange im Musikzirkus dabei und der Headliner sind.
Munich concert from Waters and Nada Surf 25.02.2012
It was Waters opening this evening in a sold out Backstage in Munich. Headliner was Nada Surf and being there, you know why these shows are sold out, cause it is good fun.
Paris mit Les Producteurs de Porcs 15.02.2012
Ab geht's nach Paris, da erwartet Rock The Cam ein Konzert von und mit durchgeknallten Franzosen im Fleche d'or. Es gibt die PIAS Nites und da treten auf: Les Producteurs de Porcs zusammen mit Special Guests unter anderem Tony Truant, Regine, Christophe Salengro und Didier Wampas. Lustig war es!
Les Producteurs de Porcs at PIAS Nites 15.02.2012
One night in Paris and there was the PIAS Nites at a venue called Fleche d'Or. Rock The Cam went there and was able to take pictures of a lovely, crazy French performance on stage. It was Les Producteurs de Porcs together with Regine, Tony Truant, Didier Wampas and lots others. Funny these French Punk Rockers!
O'Death – Brown Bird Le Poisson Rouge 21.01.2012
Am Tag vor der Heimreise konnte ich noch ein Konzert mitnehmen, die "Early Show" im Le Poisson Rouge mit Brown Bird und dem Headliner O'Death aus New York.
O'Death and Brown Bird 21.01.2012
Before leaving I was able to make it to another gig and another concert place. It was the early show in a venue called Le Poisson Rouge starring Brown Bird and O'Death as headliner.
A Brooklyn Casa Of Rock – Don Pedro 20.01.2012
Es ist Freitag und was geht denn freitagnachts in New York? Es gab die Auswahl zwischen einem HC Konzert oder einem Besuch bei Don Pedro. Rock The Cam hat sich für Rock entschieden und wurde Zeuge vom Konzert im Don Pedro in Brooklyn. Dort spielten GDFX, Eula, We Ride und Ferocious Fucking Teeth. Hier gibt's die Beweisfotos dazu.
Ferocious Fucking Teeth-We Ride-Eula-GDFX 20.01.2012
Friday night and a Rock show at the Don Pedro – Brooklyn's Casa Of Rock! It started with GDFX, then Eula came on stage, followed by We Ride and then the stage burned with the Ferocious Fucking Teeth. It was another impressing night in New York.
Mission Of Burma in Williamsburg 19.01.2012
Und ab zum nächsten Event, diesmal ging es nach Brooklyn in die Music Hall Of Williamsburg. Dort gab es als Opener The Static Jacks, gefolgt von Eula und zum Höhenpunkt dann Mission Of Burma.
Mission Of Burma, Eula and The Static Jacks live in Brooklyn 19.01.2012
Music Hall Of Williamsburg, this sounds good and the line up this evening was like this: The Static Jacks followed by Eula and the headliner was Mission Of Burma!
Herman Dune rockt NYC 16.01.2012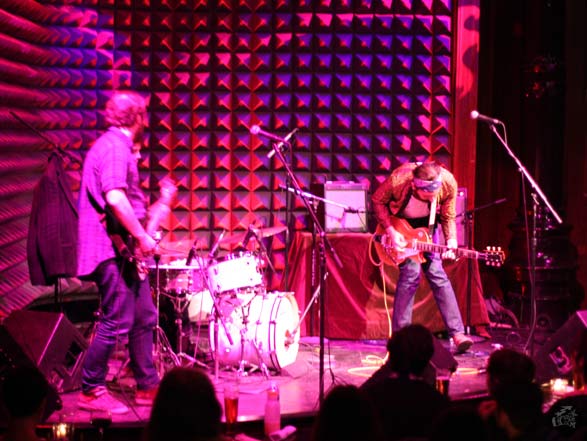 Der Ausflug nach New York bescherte mir ein Herman Dune Konzert. Dieses war etwas komisch/gewöhnungsbedürftig (die Location – Joe's Pub), aber gut, denn mit einer Person die mich zu meinem Platz bringt, habe ich bei Konzerten eigentlich nichts zu tun.
Joe's Pub and Herman Dune 16.01.2012
This 2012 trip to NYC brings concert pictures of Herman Dune to this fantastic website and of course to you. Look here: Herman Dune live at Joe's Pub – for me it was a strange place: please wait to be seated.
Die 2012 Konzertsaison beginnt in New York 16.01.2012
Mein erstes Konzert im Jahr 2012 hat in New York stattgefunden und das war ein Open Air im Januar! Auf der Straße am Times Square gab sich ein Drummer mit Plastikeimern die Ehre, leider kenne ich seinen Namen nicht, so heißt er jetzt einfach Drummer, denn bevor ich die Möglichkeit hatte Ihn zu Fragen kam die Polizei und hat das Spektakel unter freiem Himmel beendet…
1st concert in 2012 at Times Square – New York 16.01.2012
My first concert in 2012 was an open air. New York street life and at Times Square was a drummer playing his plastic bucket and the street. Unfortunately I do not know his name (therefore he is just called Drummer), before I could ask the police came around and put an end to the street beat….



2020 2019 2018 2017 2016 2015 2014 2013 2012 2011 2010 2009 2008 2007 2006 2005 2004 2003 2002