The Xcerts und Frank Turner 01.12.2011
Mal wieder Frank Turner, mal wieder ausverkauft, mal wieder gut! Bevor Frank Turner & The Sleeping Souls das Backstage in München gerockt haben, gab es an diesem Abend die Vorband The Xcerts, auch aus England.
xtra mile night with The Xcerts and Frank Turner & The Sleeping Souls 01.12.2011
Another time Frank Turner, another time sold out, another time a great show! The evening started with The Xcerts and then Frank Turner & The Sleeping Souls rocked the Backstage.
Power Pop mit Paul Collins Beat und Miss Chain & The Broken Heels 22.11.2011
Yummie! Schönes Konzert im Kafe Kult am Dienstagabend. Es gab Miss Chain & The Broken Heels aus der Nähe von Mailand / Italien und daraufhin spielten die Kings of Power Pop aus den USA: Paul Collins Beat.
Miss Chain meets Paul Collins 22.11.2011
Another nice line up at the Kafe Kult in Munich: Miss Chain & The Broken Heels from Italy started the show and then it was the legendary King Of Power Pop to come: Paul Collins Beat from USA.
Zola Jesus in Orange-house 19.11.2011
Heute Abend gab es im Orangehouse Zola Jesus aus LA, da war Rock The Cam aber mal gespannt. Konnte ich sie in Berlin bei der one of show leider nicht sehen, aber immerhin unterdessen ihre Platte (Conatus) genießen, wollte ich mich heute live begeistern lassen (was auch passiert ist). Mit dabei waren Cutz & Mouse aus München.
Zola Jesus celebration 19.11.2011
The evening at the Orangehouse started with Cutz & Mouse from Munich and the headliner and highlight was Zola Jesus. I wasn't able to catch her at the one of show in Berlin earlier this year and found out tonight that I have missed something. Luckily I went to see Zola Jesus this time and it was impressing.
Take Care mit The Drift und Explosions In The Sky 10.11.2011
Zweimal Instrumentalmusik live an diesem Abend in der Theaterfabrik in München. Zuerst haben The Drift aus San Francisco begonnen und Explosions In The Sky aus Austin/Texas USA haben den Soundtrip weitergespielt. Großes Kino!
Danke an die Bands und auch an Target-Music für die Bands nach München holen.
The Drift and EITS 10.11.2011
Twice instrumental bands on this evening at the Theaterfabrik in Munich. The Drift from San Francisco started this concert evening and Explosions In The Sky from Austin followed afterwards on this nice music trip.
Off With Their Samiam Heads 13.10.2011 Feierwerk München
Und mal wieder das Feierwerk mit einem schönen Konzert Event, es gab Off With Their Heads und dann den Höhepunkt nämlich die Old Buddies von Samiam.
Samiam and Off With Their Heads 13.10.2011 Feierwerk Munich
Another nice concert package at the Feierwerk in Munich. It started with Off With Their Heads followed by Samiam – Trips!
DailySoap + Cashless + The Movement 04.10.2011
Ziemliche Leere als ich das Orangehouse betrete, die Kollegen der Band bereiten sich mit einem Indoor Frisbee Spiel auf den Abend vor. Irgendwann legte dailysoap los und langsam füllte es sich, bei Cashless gab es zum Glück schon mehr Volk und bei The Movement hat es dann gepasst.
An evening with The Movement and Cashless and dailysoap 04.10.2011
Three bands at the Orangehouse. At the beginning it was quite empty, later some more people showed up. Anyway it was dailysoap from Freising to open, followed by Cashless and the headliner was The Movement from Denmark.
Strange Moosic mit Sean Flinn und Herman Dune 28.09.2011
Diesen Septembertag gab es in der Ampere in München zwei Bands für mich: als Opener Sean Flinn und dann Herman Dune, was echt ein schönes Konzert war.
Herman Dune presenting strange moosic 28.09.2011
Munich – Ampere: two bands on this Wednesday afternoon in September of 2011: the show started with Sean Flinn followed by the great headliner Herman Dune – nice.
EMA und Ganglians in Berlin 22.09.2011
Da hat es mich mal wieder nach Berlin verschlagen und hey welch Zufall, da gehe wir doch mal ein Konzert anschauen. Die Wahl fiel auf EMA zusammen mit den Ganglians. Stattgefunden hat der ganze Spaß im Festsaal Kreuzberg, was ein echt schöner Laden ist.
EMA in the hip city Berlin 22.09.2011
Somehow I made it to Berlin and while being there, hey it was concert time. I was able to catch the Ganglians followed by EMA. And the show was at a nice concert venue called Festsaal Kreuzberg.
Justin Sane akustisch im Kafe Marat 12.09.2011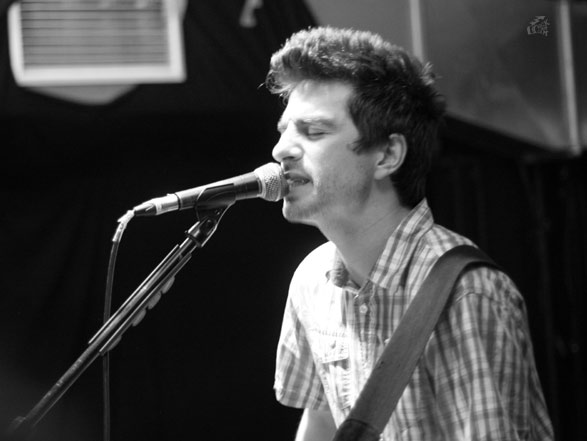 Heute konnte ich mir Anti Flag's Justin Sane auf seiner Akustik show im kleinen, feinen Kafe Marat anschauen.
Justin Sane solo at the Kafe Marat 12.09.2011
This monday evening I was able to catch Justin Sane (Anti-Flag) solo and acoustic at the Kafe Marat in Munich.
Suicidal Tendencies in Italien 17.08.2011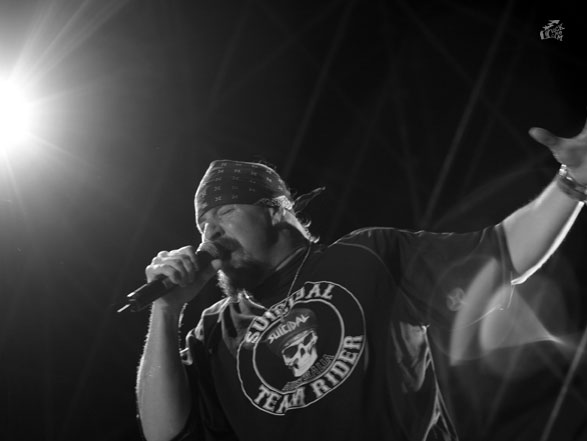 Wahrscheinlich mein letztes mal beim Festa Di Radio Onda D'Urto für dieses Jahr und das mit Suicidal Tendencies! Endlich richtig Volk unterwegs beim Festival und die Band aus Venice – Kalifornien um Mike Cyco Muir hatte die Meute im Griff. Schönes Konzert hier bei 25 Grad am Abend in Brescia und ich verabschiede mich mit den Suicidal Tendencies Worten: Join The Army.
Suicidal Tendencies in Italy 17.08.2011
I guess this is my last time for this year at the fabolous Festa Di Radio Onda D'Urto and it was a nice one – Suicidal Tendencies from Venice – California played a great set. With about 25 degrees in the night, Mike Muir and his gang on stage, I enjoyed it a lot. I can laugh tomorrow, cause I smiled a lot today.
Caso, Miss Chain und Frank Turner 15.08.2011
Sonne, warmes Wetter, gute Stimmung und interessante Musik, dafür steht bei mir das Festa Radio Onda D'Urto in Brescia (Italien). Und am Ferragosto durfte ich nochmals vorbeischauen. Auf dem Programm standen für mich: Caso aus ich glaube Brescia, gefolgt von Miss Chain And The Broken Heels aus irgendwo auch in Italien und dann Frank Turner And The Sleeping Souls aus England. Und es war mal wieder schön.
Next day live music with Frank Turner, Miss Chain and Caso 15.08.2011
Nice weather, Italian feeling, good vibrations and interesting music, this is what the Festa Radio Onda D'Urto stands for me. So at Ferragosto it was my second visit in 2011. There was "Caso" a guy and his guitar from Brescia (?), followed by "Miss Chain And The Broken Heels" and "Frank Turner" from Wessex UK on the program. I did enjoy the event!
Make Pan Music Joy 14.08.2011 14.08.2011
Festival with Hot Water Music, Peter Pan Speedrock and MDAM 14.08.2011
Da war ich wieder! Festa Di Radio Onda D'Urto 2011 in Brescia. Zum Auftakt gab es Make Do And Mend aus USA. Hier auch ein Interview mit MDAM. Dann konnte ich Peter Pan Speedrock aus Holland sehen und darauf spielten Hot Water Music (auch hier gibt's ein Interview). Zum Ausklingen durfte ich noch Reels Of Joy begutachten.
Back at the Festa Di Radio Onda D'Urto, what was there to see at my festival start in 2011? It started with Make Do And Mend (interview with MDAM here), then I was able to catch Peter Pan Speedrock. The headliner was Hot Water Music (the HWM interview will follow) and to end the first day it was Reels Of Joy begutachten. at the Tenda Blue.
Hot Water Music vs. Make Do And Mend 11.08.2011
Na so was, da konnte ich mit meiner "guten" Kamera nicht ins Konzert rein und somit musste/durfte die "Kleine" den Job übernehmen. In der Theaterfabrik gab es Make Do And Mend (auf Tour mit Ihrem End Measured Mile Album) und Hot Water Music (mit neuer Single).
Make Hot Do Water And Music Mend 11.08.2011
I wasn't allowed to take my good camera in, therefore the good old little one had to do the job. At the Theaterfabrik in Munich it was concert night with Make Do And Mend and then Hot Water Music.
Jello Biafra And The Guantanamo School Of Medicine Höhepunkt 21.06.2011
Welch Freude, da kam Herr Biafra mit seiner Truppe mal wieder in München vorbei. Die Vorband war Sonofold und tja der Höhepunkt war Jello Biafra And The Guantanamo School Of Medicine. Unglaublich was der Mann auf die Bühne zaubert!
Enhanced Method of Jello Biafra 21.06.2011
What a concert, Sonofold were the lucky ones to open this evening, then came out Jello Biafra And The Guantanamo School Of Medicine and it was a real great live show, just take a look at the pix!
Hard Leatherface Ons 09.06.2011
Weil es am Tag zuvor so schön war ging es nach Karlsruhe in die Alte Hackerei, denn da gab es wieder Leatherface und auch die Hard-Ons, so muss ein Konzertabend sein: Heimat, neuer, geiler Laden (Alte Hackerei) und zwei dolle Bands (Leatherface + Hard Ons)!
Hard-Ons vs. Leatherface 09.06.2011
Because yesterday Leatherface made a great show in Munich it was a good idea to go and see them again in Karlsruhe! Even better was that the second band playing were the Hard-Ons from Australia. So it was a nice location and two great bands.
Ein Abend mit Leatherface 08.06.2011
Frankie Stubbs und seine Band Leatherface sind wieder in München. Bei der Show in der Kranhalle gab es als Opener die Role Models aus London, gefolgt von 2 Tage : ohne Schnupftabak aus Regensburg und dann die grandiosen Leatherface aus Sunderland in UK.
An evening with Leatherface 08.06.2011
The Stormy Petrel brings Leatherface back to Munich. A nice evening with the opening band Role Models from London, followed by Zwei Tage : ohne Schnupftabak and ended with the fantastic Leatherface from Sunderland. Thanks a lot for the good time.
J.J. Quintero rockt das Barossa Garden 15.05.2011
Wenn Rock The Cam schon in Chiclana de la Frontera in Spanien abhängt und Konzerttipps bekommt, dann wird dies auch genutzt. Diesmal gibt es Animacion presenta: J.J. Quintero! Guitar live music. Hier nun die Fotos von JJ Quintero live im Barossa Garden.
Guitar live music with JJ Quintero 15.05.2011
While hanging around in Chiclana de la Frontera (Spain) I went to the Barossa Garden Hotel to see J. J. Quintero entertaining the audience with his guitar live music and took some pix.
Sam Gallon im Tunnel in Gibraltar 11.05.2011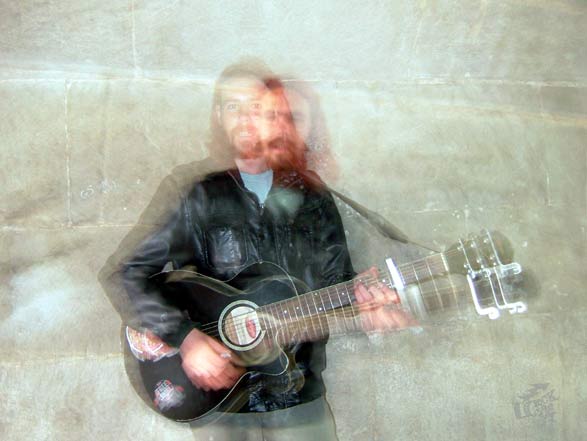 Rock The Cam hat einen Abstecher nach Gibraltar gemacht, um keinen geringeren als Sam Gallon zu sehen. Erwischt habe ich den Herrn bei seinem Auftritt im Fußgängertunnel, da gibt es aber noch kuscheligere Orte, egal, Herr Gallon wird wissen warum da und nicht dort!
Gibraltar street rock with Sam Gallon 11.05.2011
I took a trip to Gibraltar and hey, in a pedestrian tunnel I was able to get some pictures of Sam Gallon playing to fill his hat and later on his stomach. The place was not really cuddly, but it was Sam's choice.
Mit Patrick o'Sullivan an der Poolbar 08.05.2011
Da bin ich in Spanien um ein wenig das Meer und die Sonne zu genießen und dann kommt mir ein Auftritt von Patrick o' Sullivan daher. Und Mittags um 2 an der Poolside ein Irish Music Konzert im Barrosa Park Hotel zu schauen ist nicht verkehrt und der Herr Patrick o' Sullivan war auch echt korrekt!
Irish folk with Mr. o'Sullivan 08.05.2011
While trying to catch some waves and sun at the Andalusia coast I was able to see Patrick o' Sullivan live. Through a happy coincident I got told he will play at the Poolside at the Barrosa Park Hotel and he did. 2 pm, sun fun and Patrick o' Sullivan concert pictures for you!
Trail Of Dead, Rival Schools, Asobi Seksu 12.04.2011
Was für ein Billing! Natürlich hätte sich RTC zu And You Will Know Us By The Trail Of Dead bewegt, und natürlich auch zu Rival Schools, zusammen war dies ein sogenanntes gebongt Konzert. Trail Of Dead mit neuer Platte unterwegs (Tao Of The Dead) und auch Rival Schools nach 10 Jahren mit neuem Material (Pedals) am Start. Schön schön und das war es auch. Am Anfang durften dann noch Asobi Seksu ran.
What a line up: Rival Schools + And You Will Know Us By The Trail Of Dead. One concert great! Both bands have new stuff out (Trail Of Dead with Tao Of The Dead and Rival Schools with Pedals) and both really made me happy seeing them on stage and taking pictures. Opening band was Asobi Seksu.
Turbogeist und Fu Manchu 30.03.2011
Leider habe ich die Vorband Turbogeist nicht genau mitbekommen können, dafür aber den Hauptact die Stonerrock Könige, auf jeden Fall Kings Of The Road: Fu Manchu. Das 59:1 war gerammelt voll und das nicht gerade jüngste Publikum hatte richtig Spaß an der In Search Of … Konzertnacht.
In Serach Of Turbogeist and Fu Manchu 30.03.2011
The 59:1 club was packed this night. Turbogeist from UK opened up for Stoner Rock Band Fu Manchu and Scott Hill and his gang riffed the audience down! Great In Search Of … show.
Ausverkauft: Rise Against und Coliseum im Zenith, 26.03.2011
Seit Monaten ausverkauft: Rise Against im Zenith in München und der Laden ist nicht wirklich klein, was heißt: Rise Against aus Chicago sind groß! Der Opener an diesem Konzertsamstag waren Coliseum aus Kentucky, kein leichter Job und die 3 hatten es auch schwer. Wohin gegen Rise Against die Menge gleich von Beginn an im Griff hatten und auch nicht mehr los gelassen haben.
Endgame European Tour: Rise Against and Coliseum, 26.03.2011
A sold out Zenith in Munich on a Saturday night, it was Coliseum from Kentucky opening for the main act Rise Against from Chicago on their Endgame Tour through Europe. Rise Against could keep the level high throughout the 8ß minutes show – and it were 80 good ones!
Puta Madre Brothers auf (k)einer Mission, 08.03.2011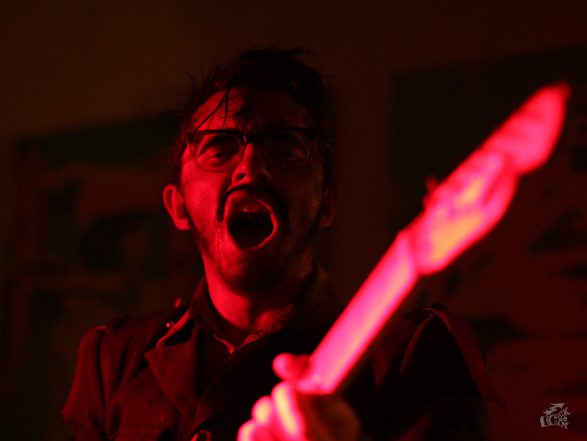 Was erwartet RTC denn heute? Ein neuer Konzertladen, das Laab (ehemals Kilombo) und eine Band namens Puta Madre Brothers (3 Verrückte aus Australien). Was für eine Truppe, ein wirklicher Livespaß, sehr zu empfehlen und dass die ein wenig "verschieden" sind, hat sich auch an den recht coolen Antworten im Interview mit Renzo / Renato Vacirca / Chocolate wie auch immer, herausgestellt. Auch hier sehr spaßige Antworten.
Three Men – No Mission – Puta Madre Brothers, 08.03.2011
Today a new concert venue for me (Laab, the former Kilombo) and on stage the Puta Madre Brothers. Seeing them was lots of fun although I do not know if I could listen to their Mexican mariachi whatever music quite often at home – but Puta Madre Brothers live is a recommendation! Weird music style from three Australians.
2011 bringt mir Cyanide Pills, Buck Brothers und Derby Dolls, 05.03.2011
Endlich, das erste Konzert im Jahre 2011. Im Epplehaus in Tübingen (einfach ein klasse Laden) gab es für 5 Euro Eintritt ein Punk Rock Paket. Es spielten die Derby Dolls mit einer Sängerin die sogar echt den Namen Sängerin verdient hat, gefolgt von der Buck Brothers aus London+Jersey in England und was die drei Jungs von Buck Brothers abgeliefert haben hat mir sehr gut gefallen. Als Headliner gab es die Cyanide Pills aus Leeds auf Ihrer Europatour in Deutschland. Es gibt für dich auch ein kleines Cyanide Pills Interview. Wenn die so weiter machen, knallen die durch, wäre Ihnen zu gönnen.
Starting 2011 with Cyanide Pills, Buck Brothers und Derby Dolls 05.03.2011
Finally my first concert in 2011. Rock The Cam went to Tübingen to see three bands playing the Epple Haus, nice place and hey 5 Euro entrance fee – that is fair. The show started with Derby Dolls from oh, I don't know, somewhere in Germany, followed by a great band called Buck Brothers from UK and headliner were the British Cyanide Pills from Leeds kicking the stage, awesome.



2020 2019 2018 2017 2016 2015 2014 2013 2012 2011 2010 2009 2008 2007 2006 2005 2004 2003 2002