LC 03318 Noise-O-Lution 2007
Da kam ich an die Promo CD und was mich erwartet war irgendwie klar, das wird keine leichte Kost! Live geht Bubonix gut ab, immer voll drauf (Jumps!!!) und so legt die CD (namens: please devil, send me golden hair) auch los. Erstmals eine ordentlich Portion auf die Fresse Schläge mit "Kaputt & Weiter". Dann kommt ein ruhigeres im Ring Abwarten Stück "Fashion Tattoo" und darauf beginnt die Fußarbeit – rumgetänzel links rechts, vor links, kurzes Abtauchen, nach hinten und weiter die Deckung leicht offen "Corazon Vivo Vida" und keine Ruhe lassen, immer in Bewegung bleiben. Yupp, beim noch Mitänzeln, gibts plötzlich wieder welche drauf, ughhh schon wieder weg und zack wieder da und noch drei vier, Break und dann eine nicht wirklich ästethische Grunzattacke, einfach mal drauf los gerannt und umklammert und das Grunzgesabber im Ohr "Remontes". Nachdem der Ringrichter das Knäul aufgelöst hat, gibt es ein sportliches Auf und Ab mit schönen Kombinationen, immer schön drauf und die Frauen am Ring erheben auch ihre Stimme "Fuck Love". Da kommt der Gong zur Pause und "Kabhi Khushi" macht einen wollen, dass es weitergeht. "Quick" ist wieder mit aufgeladene Batterien dabei und der Tanz geht weiter, links rechts, ach Du weißt schon! Bischen Drohgebärde und yupp doch noch ein paar flinke Hände nach Vorne, schöner Auftakt. Jetzt zieht die Geschwindigkeit an, doch die Leichtigkeit bleibt, kurz ein Auffunken der bekannten Grunzattacke und munter weiter "Never Forget". Das ist jetzt ein erneuter Wechsel, links rechts kurze Attacke und zapp etwas hin und her, Kopf runter Kopf hoch und zapp "Snakebite". Kopf Nicken, dran an den Mann und seitlich welche rein "Free Love On Rügen" und durch die Leichtigkeit und Power einfach mal den Gegner fast KO gemacht. "Code Azuro" zeigt dann den taumelden Held filmartig in Zeitlupe auf die Bretter fallen, kurz hebt sich der geschundene Kopf nochmals nach Oben und aus!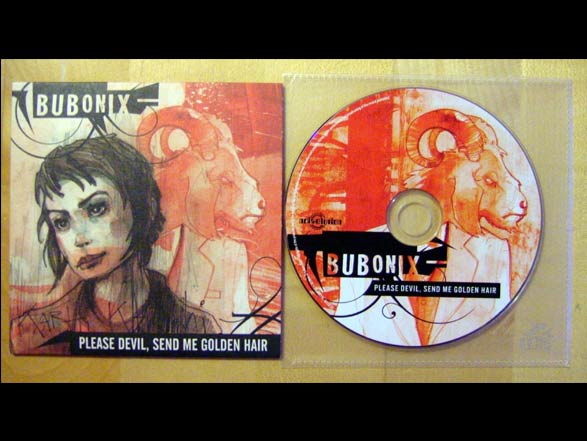 This is not easy listening, Bubonix kick ass on stage and the CD "Please Devil, Send Me Golden Hair" kicks you! And hell, learn German, I wrote such a cool
critic that I am not willing to translate and spoil it, hehehe.