ITN Corporation 1989
Winterabend und ich fühle mich leicht angeschlagen. Die Luft ist raus, die Kälte umhüllt das holde Heim. Pause, etwas zur Ruhe kommen, schön eingemummt sitze ich auf dem Sofa. Jetzt was ruhiges hören, einen musikalischen Film durch die Ohren ins Gehirn projektieren.
Die In The Nursery CD aufgelegt und Augen zu. Oh wahr, die Reise beginnt. Synthiesounds kreieren Landschaften auf denen verschiedene Arten von Empfindungen unterwegs sind. Percussion und Drumsounds ordnen die Gefühle, oft ein wenig melanchonisch, manchmal treibend; hinaus hinaus in die Weite der Welt, warm und sanft gleite ich dahin…
L'esprit – like the breathless beat of angels' wings.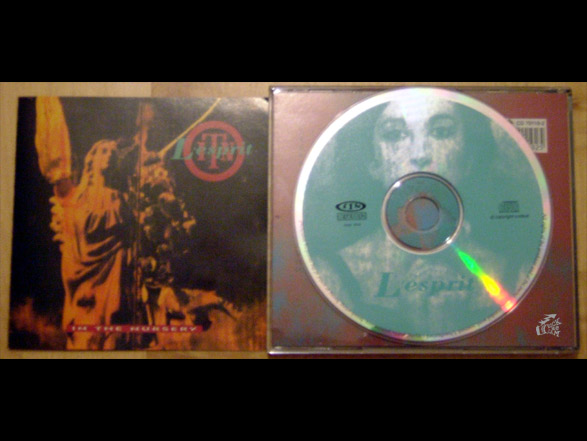 Evening, the light fades away and the cold creeps in. Just want to listen to some quite stuff. I switch on the In The Nursery CD called L'esprit and close my eyes. The film starts in my brain and the voyage begins. Decent drum sounds and keyboard melodies take my feelings to melancholic bright light of new inner freedom (what a new age description, hehehe).