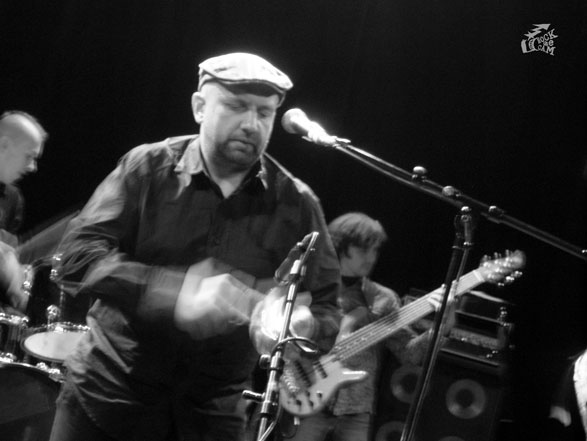 Die Ankündigung im Programmheft war nicht schlecht: Freunde feucht-fröhlicher Klänge aus Russland kommen auf Ihre Kosten. Mir war der Herr Hlamkin bis dahin gänzlich unbekannt, obwohl ich beim Recherchieren entdeckt habe, dass er schon bei russischen Bands wie –Zement– oder –Kurt Blanche– mit dabei war (OK, OK, auch diese Bands sagen mir nichts…)
Die gute Launemusik setzte sich zusammen aus vielen verschiedenen Stilen, wie z.B. Ska (Bläsersektion = immer Ska), Samba und so eine Art Latino Balkan Rumba und wird immer wieder getragen vom guten alten Rock. Alles in allem machte dies Spaß und das Publikum ging auch gut ab. Es war mir nicht vergönnt die Texte oder die Kommentare / Ansprachen zwischen den Liedern zu verstehen, da sich meine russischen Sprachkenntnisse auf Mir beschränken. Aber dir sind hier die Konzertfotos von Karl Hlamkin & Inflammable Orchestra auf Rock The Cam gegönnt, mit oder ohne Russisch zu können.
Somehow I ended up at a gig from Karl Hlamkin & Inflammable Orchestra which did not say anything to me, but it was a nice concert, good mood and lots of Russian people. Did not understand a word what he was singing or sometimes talking about, however it was the right stuff, cause the audience liked it. Anyway here are some Karl Hlamkin & Inflammable Orchestra concert photos.