LC 0392 Warner Bros. Records 925 727-1 1988
Mal wieder stöbern im Plattenregal und geile, alte Scheiße: Perry Farrell's Jane's Addiction mit der Nothing's Shocking LP. Damals klang das alles neu, frisch und anders, ein Mix aus Melodie, Indie, Punk, Provokation oft auch fast schon Metalgitarren. Ein Knackpunkt ist die Stimme, habe ich von vielen gehört, die geht gar nicht (dann wird's auch nix mit der Platte), ich find die Stimme gut und somit ist es was mit dem Jane's Addiction Album! Auch heute freue ich mich über die Lieder, klar das Neue ist nicht mehr neu, aber die Substanz des musikalischen Werkes lässt mich geile, alte Scheiße schreiben!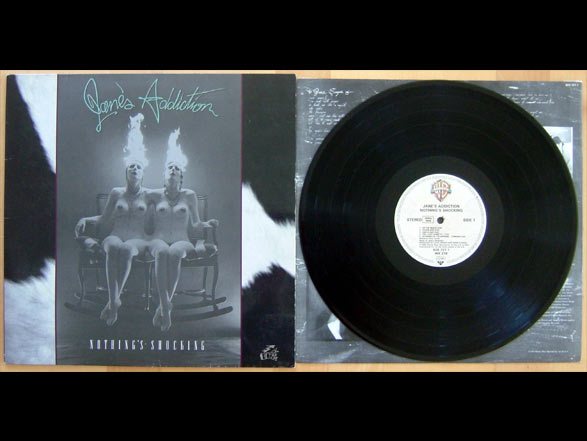 I went to my records and Nothing's Shocking shouted the loudest "get me out – listen to me". All right, Jane's Addiction on the record player. When the LP came out it was all new, exciting, a mix of melody, indie, kind if metal guitars, punk and provocation. Amazing! Quite often I heard that the voice of Perry Farrell was a no-go and then you won't connect to the band's output. I like it and I like their stuff! After all these years, the music is not new anymore but it still catches me and makes me write: great old crazy shit!