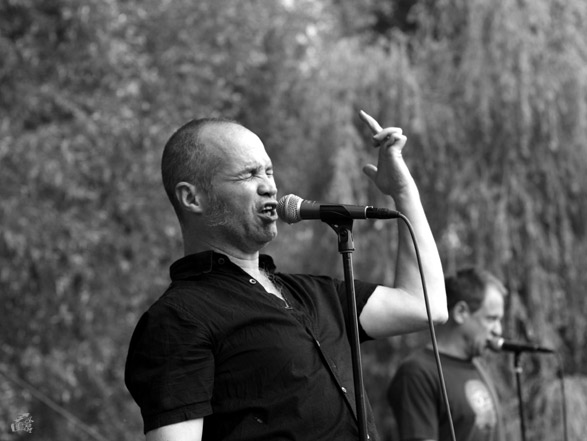 Für mich ein glückliches Wiedersehen mit der deutschen Hardcore Punk Legende Spermbirds. Lee Hollis meinte zwar er ist auf Antibiotika wegen einer Krankheit, davon war beim Auftritt aber nichts zu spüren. Mit Americans are cools ging es los und ab ging das Spermbirds Feuerwerk. Viele Jumps auf der Bühne, lustige Zwischensprüche von der Bühne und ein Pogo-Mob vor der Bühne. Einfach schön mit einer Band zusammen älter zu werden, welche auch nach Jahren Ihr Ding durchzieht. Fazit: ein klasse Gig von den Spermbirds auf einem tollen Jahninselfestival im sonnigen Regensburg.
Unter anderem gab es diese Songs hier zu hören: Americans Are Cool / Set An Example / You're Not A Punk / Common Thread / Neighborhood Relations / Bed Tool / Stronger / Texas Cowboy / Say It Loud / Bloodstains / Nothing Is Easy / Try And Stop Us / My God Rides A Skateboard / Knife Thrower / Only A Phase / Try Again
Finally I was able to catch the Spermbirds again. I was happy to get some concert pictures from their gig at the Jahninselfest in Regensburg. And it was a good show during a good open air. Spermbirds with Lee Hollis is always fun to experience spiced up with some Jump action on stage!