Interview time with Jessica Hernandez
The god of music had a good day and allowed me little creeping want-to-be journalist worm to have an audience with one of the rising ambassadors of rock music: Jessica Hernandez!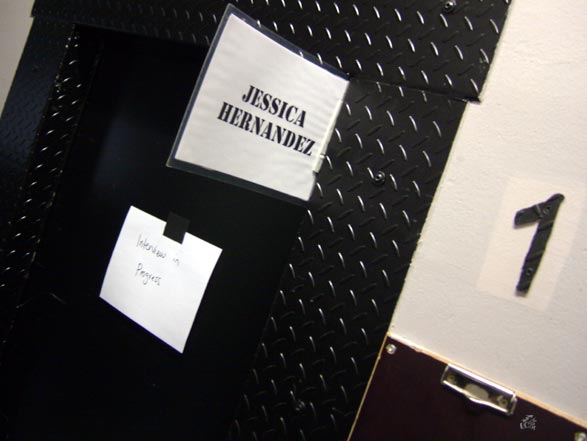 So it was written in the knowing book of history the 22nd of April in the year that Percy Sledge died, that on this Wednesday in Munich, Rock The Cam was given the chance to soak up the wisdom, knowledge and visions of this fantastic female artist.
And who is she? What kind of person is this Miss Hernandez you may ask? If you do, I may answer: how should I know? I had my 15 minutes of "star fame", how should I know after this little time who she is? But (the famous but) I am pleased to give you a hint how it was doing the interview: good time! A pleasant quarter of an hour in my life, let's go Jessica:
How everything started
RTC: Hello Jessica, what made you start playing music?
J: I don't know, I've been singing since I was little, since I remember I think singing is the main thing which got me into music and into other styles of music. Then I started doing theater and all kind of stuff that was musical. The older I got, I got into different types of music. I was into Punk, into Ska, I was into Surf Rock, old Jazz, Latin music and the older I got I wanted to perform and write, this was there since I was a child.
RTC: Did you do some music in school?
J: Ja ja. From early age, when I was about 3 I was doing choir.
RTC: Aha, and with 3 you knew you gonna tour with Social Distortion!
J: Ha, ha, now it is Social Distortion (while saying this Jessica is having a look like she still cannot really believe it). I still have notebooks from preschool Kindergarten saying one day I want to be in a band.
How influencing parents can be
RTC: Your parents supported you when you said this is the moment you want to do music not just for fun but for fun and for life?
J: Ja, there was definitely a moment, when I was in college living in Chicago, actually studying fashion design –which is also a very crazy thing in getting through and surviving- difficult industry, when I had this moment. I told it my parents, when I was 19, you know I want to do music seriously and I think I'm gonna leave college and they were all about it! They were super exited and I was not expecting that but they thought I should be singing. They said this is what you need to be doing like you were meant to do this.
They were super supportive and they were more exited then I was, I was nervous.
RTC: Are they coming to your shows?
J: My dad was at our show in London, in Amsterdam and he might come to our show in London at Shepherd's Bush.
RTC: But he is not from Europe?
J: No, but they like to come to shows and they are super exited.
A Rock band
RTC: You mentioned you got a lot of styles involved; you grew up with a lot of different things, so how your mother would describes your music to their neighbors?
J: She probably says: she plays in a Rock band
RTC: So I guess your parents weren't into Punk or Ska?
J: My mom was but still she would describe it as a Rock band.
She got me into 80s New Wave, my mom is pretty young, so she was listening to The Clash, The Cure, Joy Division all those bands. She got me into that scene and my dad who is a little older than her was listening to Alice Cooper, The Stooges, all that stuff. So it is cool having these sides of that music history to influence me.
In Europe with Social Distortion
RTC: Your first time in Europe?
J: 1st time touring, but have been to Spain, France and UK with my family.
RTC: How is the difference when it comes to touring between US and Europe?
J: Oh, different comparison, in the US we do our own headlining tours and so we play smaller clubs, so it is a crazy thing to go from doing our own headliner shows in US with between 500-1000 people –depending on the city- to then first touring in Europe opening in these giant venues for Social Distortion. See it's hard to even compare, I think it will be different if we were doing the same style of touring as we do it in the states.
RTC: How did you landed with Social Distortion?
J: Honestly it was through luck and friendship. We met them when we did Riot Fest in Chicago and we were on the same bill.
RTC: So you blew them away and they came up to you and said: hey Jessica, if they don't wanne see us, please open up that they have a good experience!
J: Ha haha, no the guys saw us performing and their manager saw us performing and we ran into them backstage at the artist tent and talked. Later the manager said: you know, the guys were really impressed with your performance, would you consider doing shows together? Ah ja, that would be a honor, I would love to open for them.
RTC: and wondering if this is true or wondering what's in your drink…
J: Yes exactly like that. A few weeks later they called up and asked if we want to open for them at New Year's Eve in California and we said YES and so we did this big New Year's Eve show in Pomona at Fox Theater. It went really well and we went on with the guys really well and then they invited us to do that European tour.
Small record label – a good decision
RTC: How do you choose your record label?
J: It was hard for me I switched around a lot, when I first started I was a solo artist and was more a singer/ songwriter doing more acoustic, cause I didn't had a full band. In that moment I was signed to a major label called Blue Note Records which is more known for Jazz and they were doing it more of a kind of an experience. Let's do something different and I wasn't really happy and they ended up being bought out by another major Warner Brother and I was really lucky because in this transmission the head guy there Don Was who is/ was the president, he is from Detroit actually, called me and told me before anything happened, hey take your record before Warner Brother notice it and I help you find a new label, cause I'm worried about the new label and the people that they might not care. They did not find you and have no invested interest, so I was really lucky that he was looking out for me and helped me out. He and the "old" people introduced me to a lot of good new people; I found a manager, found Richard whom I work with now. He is with Instant Records, which is our label now. I had a bunch of meetings with a lot of different people and since I was on a big label already I wanted to do something smaller but be a priority at an indie label, rather than be some random person on a big label. It was a good decision.
The 48 hours artist day
RTC: How you do it with the covers, do you do it on your own?
J: I do everything on my own; I write all of our stuff, some of our music videos and I completed a shot myself and directed myself.
RTC: Boah, your day has 48 hours?
J: Ha ha, you got a lot of time in the van. On the drives I usually sit on my computer, work on lyrics, work on music videos, ideas, whatever.
I still sew a lot and make a lot of my clothes so I like being creative in a lot of different ways.
Sewing and shopping
RTC: You have a sewing machine in your van?
J: (Smiling) Not in Europe but in the US! You never know when there is an emergency (smiling big eyes look).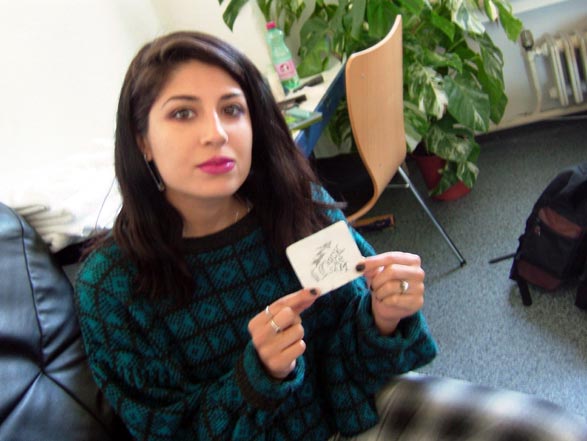 RTC: How you do it on tour with clothes and shoes in a little van with limited space?
J: Look there (pointing to a small suitcase), I think I brought less stuff than the boys, but I shop a lot on tour. I like to bring a small suitcase with my favorite show clothes and then at each town if possible I like to go to thrift stores, vintage shops.
Listen to Jessica Hernandez & The Deltas!
RTC: Why should more people listen to Jessica Hernandez & The Deltas?
J: I think it is different than a lot of other music out there now (thinking and then smiling) guess everybody is saying that (more smiles). I really have no good reason, it's like everyone wants that everyone listen to their music, so it is hard for me to say why. If you like to finding new music and you like stuff that is kind of eclectic and comes from a lot of different influences or you have a wide musical taste, then you might like it and you should try it out!
Song time
RTC: What was the best song you have been involved?
J: Hmmm I don't know if I have a favorite one. I think I have one, it is not the best one musically but emotionally, it's called Young, Dumb and Drunk. It's not out yet, it's actually one of the songs that is older but I never released it, perhaps cause it is personal, every time I recorded it, it's not, it's not right!
RTC: You need more time for it.
J: Yes exactly, I need more time for it to make it like it should be.
RTC: And which is the song you wished to have written?
J: (Long break, thoughtful face) what will it be? I feel there are a lot of songs by David Bowie that I wished I wrote. He just did a good job by combining Pop with Punk with Garage Rock, this cool combination is interesting for me as an artist. For me he is really inspiring because this is what I eventually wanted to do. This is what I love about being an artist, cause artist they can do a little bit of everything. I think even Punk Rock used to be more like this than it is now. Punk artists in the beginning had dance hits, still being so raw and still being themselves but hits.
Show time
RTC: What was your first show?
J: First show was Johnny Buffet (I did not get the name) he is very American, guess you don't know him (Jessica you are right, don't know him and don't know how to spell his surname), my parents took me there.
RTC: And which show really caught you?
J: Probably when I saw No Doubt open for the Rolling Stones and it was a dream for me cause I was really young and No Doubt was my favorite band, I was obsessed with Gwen Stefani and they were opening for THE Rolling Stones. That was where I was really wow (making a WOW face!) like the whole time.
Festival time
RTC: Last question is: Imagine you are god and you are able to set up a festival of your choice (even dead people or dissolved bands), name me the 5 headliners:
J: Screamin' Jay Hawkins
Ella Fitzgerald
Tom Waits
Hank Williams
David Bowie
I had a lot of fun doing the interview and sooner or later Jessica Hernandez will present a joke here as well. Thanks Jessica for your time and thanks to Claire and Dennis making this possible. Now use this link and look at some Jessica Hernandez & The Deltas concert pictures from the Munich show at the Zenith.