SBM CDE007
Was man sich so alles im Urlaub gibt, eine super Werbung an einem Laden entdeckt (das Poster animiert doch zum Kauf!) und zapp kurz darauf die CD in den Player gesteckt und angehört. Infos zur Malghesetti CD finde ich nicht wirklich (von wann, welches Label – wobei ich da an eine Eigenproduktion glaube).
Also Malghesetti ist eine Band aus Italien aus der Nähe von Brescia vom Tal Val Trompia. Die Bandbesetzung ist: Ivan Becchetti "Voce"; Mauro Becchetti "fisarmonica e voce"; Dario Fezzardi "contrabasso e voce"; Gigi Puxeddu "armonica e voce"; Arturo Raza "anima e voce"; Massimo -Mahem- Pintossi "voce", Stefano Gustinelli "chitarra acustica" und Maurizio Felicina "batteria". Irgendwas von gruppo "Valtrumplini" steht auf dem Booklet und jetzt zur Musik. Die ist sogar ganz korrekt, die Sprache ist ein abgefahrener Dialekt vom Tal, was heißt die hat nicht mehr viel mit italienisch zu tun, für mich unverständlich. Singen tun Malghesetti über Morde in New York, Schweinezucht versus Tourismus, politische Unterdrückung der Strauchwiesenreiher und Kapitalismus in der Wohlstandsgesellschaft als Ausdruck von Notwehr. Hey, keine Ahnung, wie zuvor geschrieben: ich verstehe das nicht.
Insgesamt hat die CD zum Teil Anklänge an irischen Folk und auch Mano Chao geht mir durch den Kopf. Über die gesamte Laufzeit gibt es Höhen und Tiefen und Lied Nr. 9 namens Pina Mata hat mir gefallen, das ist eher ruhiger und schön.
Zum Schluß wird's sportlich, komm Du Sammler, schau mal ob du die CD irgendwo auftreiben kannst, hehehe!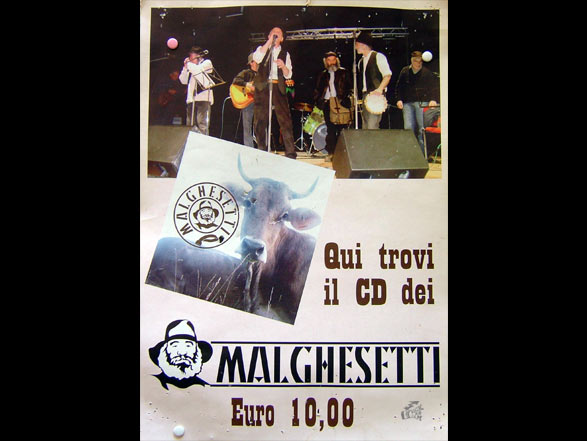 Qui trovi il CD dei MALGHESETTI – Euro 10,00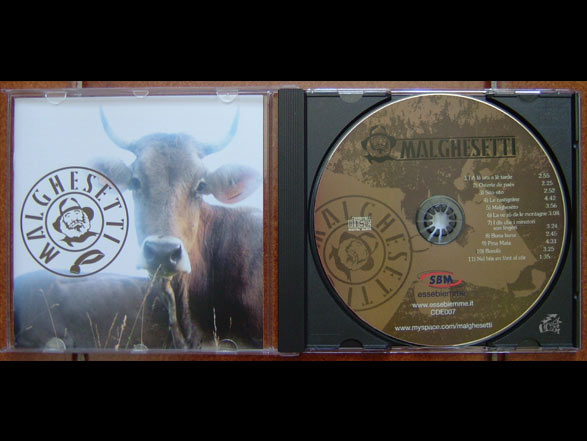 Saw this poster at a store while being on holiday and come one, this is the real thing! Shortly after the Malghesetti CD was in the player and hell, what is this? The language got nothing to do with Italian language; it is a real strange dialect. Anyway the music sometimes has a touch of Irish Folk and a touch of Manu Chao . Listening the whole album there are ups and downs and number 9 called "pina mata" is a good one, it is calm and nice. Come one buddy, try to get it!