Mudhoney was on tour and I had the chance to have a quick chat with The Freewheelin' Mark Arm at the Feierwerk in Munich. More than 50 years old, but still rocking (go see a show!) he is no stranger to the world of music. A bit of small-talk, cheeeeese for the picture, some mails and here is the interview – with some funny answers.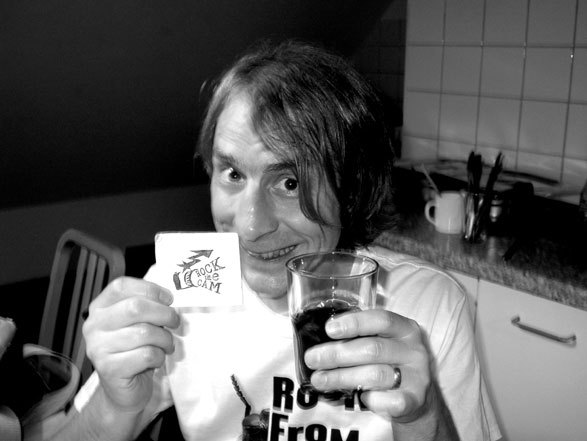 RTC: Hello Mark, what is your job in Mudhoney?
MA: My job is to pleasure myself and the other members of the band.
News about Mudhoney – Vanishing Point – Animal chick magnetism
RTC: Any news about new material from Mudhoney?
MA: Yes, our new album Vanishing Point will be released on April 2, 2013.
Vanishing Point is made up of 10 songs, all recorded and mixed by Johnny Sangster.
All the photography is by Emily Rieman and Jeff Kleinsmith did the design.
If you play the record loud enough, it will increase your animal magnetism which, if I understand physics correctly, is why you get all the chicks when you play it at the correct volume.
RTC: You are not touring so much in Germany, is there a reason for this?
MA: We will play 6 shows in Germany on our next European tour:
Düsseldorf – Zakk (May 21), Bielefeld – Forum (May 23), Leipzig Werk2 (May 25), Berlin – Festsaal Kreuzberg (May 26), Hamburg – Fabrik (May 27) and Frankfurt – Zoom (June 3).
This is the most shows we played in Germany since 1995. I'm not sure why that is exactly. We have only been able to do short tours of two or three weeks for the last decade. We can't go everywhere. Unfortunately, Germany has been somewhat neglected by our booking agent.
RTC: Any news / planning for Green River?
MA: Not really.
On the road – surfing?
RTC: What was your personal highlight from the Rocket From The Tombs / Mudhoney tour?
MA: We only played one show together, the one you saw in Munich. Unfortunately David Thomas was in very poor shape. He left the hospital early to go out on tour, but he was in need of much more recovery time. I'm a big fan of Pere Ubu and Rocket From The Tombs, but it was difficult to watch him. He could barely climb the stairs.
RTC: What do you like more, touring or recording?
MA: I like both equally and differently. Recording is an exciting process in which you get to watch ideas because something concrete.
The immediacy of playing to real live people who enjoy what you're doing is pretty hard to beat.
RTC: What is the difference between touring in North America and Europe?
MA: North America has way more dead spots. Outside of Portland OR and Vancouver BC, Seattle is pretty far removed from the good spots. The biggest differences are population density, cultural variety and good wine that is connected to place and tradition.
RTC: Beer, wine or water?
MA: Wine. I spent many years drinking a lot of beer. I quit drinking for a few years when I learned that I had Hepatitis C. After I successfully completed a grueling 11 month treatment and was told I could drink in moderation, wine seemed like the most exciting option. I'm astounded by all of the different ways grapes can taste and I'm up for the surprises wine can offer, even the unpleasant ones. I hope to get my hands on some aged Riesling while in Germany.
RTC: Do you practice a sport? How does it work out while being on tour?
MA: I've been trying to get a handle on surfing for the last 7 years. The problem is that I don't live very close to surf. The closest place to Seattle is about 3 hours away. It took me a few years to come to terms with the idea that it's actually good to get in the cold water.
I've only been able to get on a surfboard twice while on tour. Once in Australia in 1990 well before I had any idea what I was doing and once in Brazil in 2008. We are rarely tour near surf and we don't have much time when we do.
The money and job question
RTC: What else would be your "dream" job (engine-driver, astronaut, doctor…)?
MA: My dream job would be living in a warm climate and learning to surf better, but who is going to pay me to do that?
(Anybody out there? If yes, hey count me in as well, seems like a decent idea!)
RTC: Can you make a living out of your music? What else do you work?
MA: I don't know. Due to family and work obligations we can't tour very much. I don't know if we would make enough money if we quit our jobs and toured all of the time. To tell you the truth, I don't want to be on the road all the time and I like not being dependent on music for my income. This frees the band up. We can do what we want without worrying if people will like it.
My day job is in the Sub Pop warehouse.
Talking about this frees the band up
RTC: Some other bands from your neighborhood went quite big, why did this not happen with Mudhoney? Was it that you would have had to sell your soul (and musical freedom) or have they been just more lucky?
MA: Yes, a few bands became very big, but many many more bands in our neighborhood have not had the success that we have, and still continue to have. I am very happy with what Mudhoney has accomplished and I know that the other members of the band feel the same.
Music in life
RTC: What made you start making music?
MA: I'm not sure really. Music was always in my house. My mother was an opera singer and she made me take piano lessons. I hated that and classical music bored me to tears, but I loved rock 'n' roll. Perhaps I was drawn to loud rock music because my mother hated it so.
RTC: Do you think you can still connect to people through your music? How/why?
MA: Yes, by playing our music. I do not have an answer as to why.
RTC: Any tip/s for a new band what they should do / think about in their music career?
MA: Do what you want to do and don't worry about what other people think. There's nothing you can do about that.
Records and record labels
RTC: How did / do you chose your label?
MS: Sub Pop was started by friends of ours who we knew before it was a label.
RTC: What did change in music biz from your beginning until today?
MA: I don't care. The music "business" means very little to me.
RTC: Are you a record collector?
MA: Not so much these days. Steve is. That's his job actually.If I spend too much time in a store, no matter what kind of store, I get a headache.
RTC: Do you still remember your 1st record you bought?
MA: The first 7″ I bought was "Yo Yo" by The Osmonds and the first album I bought was "Desolation Boulevard" by The Sweet
RTC: And the last one?
MA: A digital version of the Oil Tasters album from 1982. I would happily buy the new Pissed Jeans album "Honeys" if I didn't get it for free.
RTC: How do you sort your records?
MA: Alphabetically by artist. Compilations have their own section.
RTC: Do you care about 1st press or color varieties?
MA: Not really.
Song and band namedropping
RTC: What was the best song in which you were involved?
MA: I don't know. I got to sing Over And Over with the DKT/MC5 and Fun House with the Wylde Ratttz (which included Ron Asheton). Both of those songs are pretty great.
RTC: And which is the song you wished to have written?
MA: Happy Birthday, the publishing royalties would be massive.
RTC: Any band you want to do some namedropping for? If yes, name and why:
MA: I think I just mentioned Pissed Jeans, right? I also love Obits & Thee Oh Sees. Tar Halos from San Diego have 2 great records they released last year: tarhalos bandcamp page
I hope to play with them when we go to California in April so I can see them. Also, His Electro Blue Voice from Italy have released some awesome stuff.
RTC: Imagine you are god and you are able to set up a festival of your choice (even dead people or dissolved bands), name me the 5 headliners:
MA: Captain Beefheart and the Magic Band
Hawkwind (with Lemmy)
Void
The Birthday Party
Howlin' Wolf
John Coltrane….The list could go on.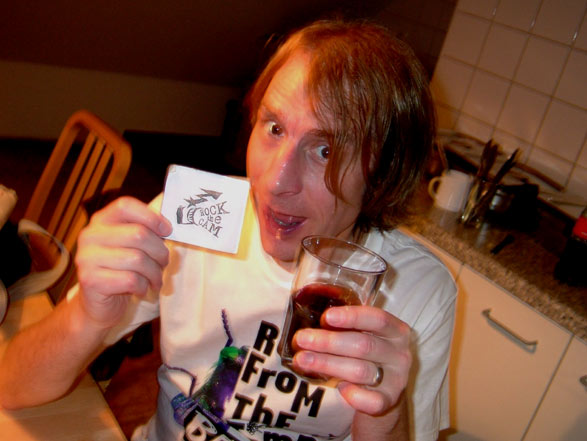 All there is to say, go and see Mark Arm and Mudhoney live and check out the concert photos from the Mudhoney gig in Munich here.