Souterrain Transmissions SOU015LP (2010)
Was für ein Name (Tweak Bird), was für ein Cover –was'n das- Oben ohne motorradfahrende Vögel auf einer Kawasaki, einer davon noch mit Indianerfedern auf dem Kopf? OK, da liegt nun das Vinylbaby auf dem schönen Technics und ab geht es. Rock, Gitarre und die Schubladen gehen auf: Black Sabbath und dann gab es mal so eine Doom Metal Welle, mir fällt dazu noch Count Raven ein – gute Schiene also! Noch ein Schuss 70ies Rock dazu – passt. Zwischendurch gibt es noch Nachwehen von früheren Drogenversuchen "Round Trippin", ein Hauch von Psychodelic, doch lässt sich die Scheibe schön durchhören. Keine wirkliche Neuerfindung, aber auch weit entfernt von Zeitverschwendung. Ach und zum Schluss noch die News, dass es sich hier um die Gebrüder Caleb und Ashton Bird (Vögel also, hab ich doch geschrieben) handelt und dass der Herr Dale Crover produziert hat.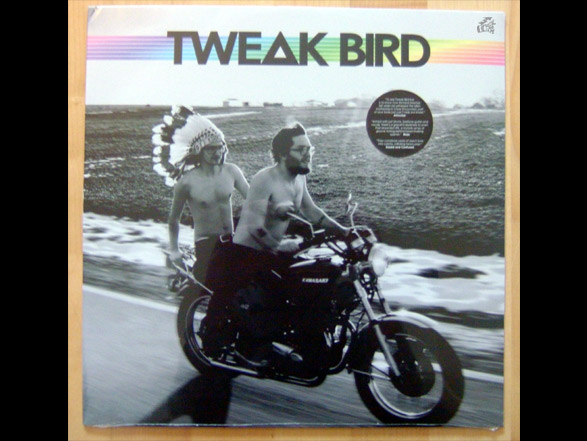 Strange name (Tweak Bird) and strange cover (two half naked men driving through the landscape on a Kawasaki). And out comes the vinyl baby and on the record player. Rock, Stoner Rock, Doom Metal, Black Sabbath, Count Raven. Some influences of drug experiences with a psychedelic touch. Good to hear but no reinvention of the wheel. Tweak Bird are the brothers Ashton and Caleb Bird and the whole fun was produced by Dale Crover.