Impact Records IR-L-247 2010
Was fällt dem gemeinen Leser zum Thema Dödelhaie ein?
Deutschpunk, vielleicht?
Was verbindet der gemeine Leser mit Deutschpunk?
Tja, entweder gut oder schlecht.
Also neuer Ansatz, beginnen wir mit dem Äußeren:
Schnickes Picture Vinyl, dazu ein Poster, Textbeilage und noch die CD. Gibt mal volle Punk(t)zahl.
Was noch? Machen tun es die Dödelhaie auch schon seit 1985 und auf der Platte gibt es außer den Herren Axel, Andy, Mani, Hardy noch Gäste, nämlich die Eva, die zwei Ex-Daily Terror Leuts Uwe und Micha. Meine Berührung mit den Fischen ist bisher eher gering, durfte mal ein Konzert sehen, was cool war. Also unvoreingenommen ran an die Musik.
Intro und dann kommen schon zwei Nummern die mich positiv erwischen. Klarer Sound, ganz geile Gitarreneinstellung und Punk Rock. "Wir werden uns wohl nicht mehr ändern", OK. Dann kommt meiner Meinung nach der Schatten, das Molli Lied. Nee, ist gar nicht mein Fall, dann ändern sich die Haie aber wieder und zwar zum Guten, mein Mixkassettentipp: Golf Hooligans! Der Rest der Hai Alarm!! Scheibe lässt sich auch gut anhören und bringt mir Freude. Gute Platte. Und übrigens gut zu wissen: Mandy, Wendy und auch Sandy hatten eine schöne Zeit. Nur auf dem Rücken ihrer Pferde machten sie die Beine breit! Da lernt man noch was aus den Texten, kein Wunder hatte ich damals bei den …ndy-schnitten kein Erfolg.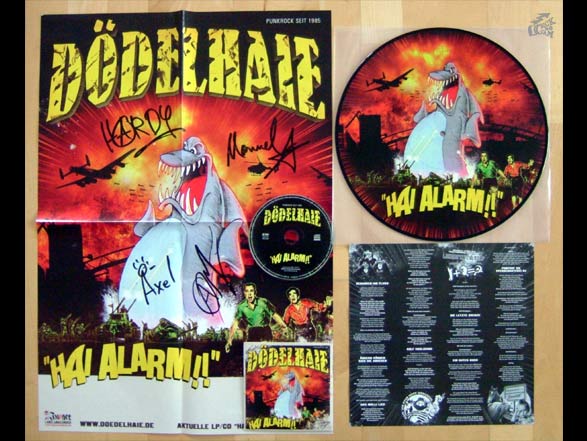 Dödelhaie is a weird name and I do not even try to translate it. They exist since 25 years and they are playing Deutschpunk. I was able to catch them once live and the show was cool, so let's get to the record. Picture vinyl including text sheet, a poster and the CD, it is almost impossible to make the presentation better. The Hai Alarm LP has a good clear sound and I like most of the songs. One is bäh (Molli Lied) and one is my favorite (Golf Hooligans) and the other ones and the epilogs are good time. Put the whole story into a nutshell, I did not expect anything and got positively surprised by this Dödelhaie record!