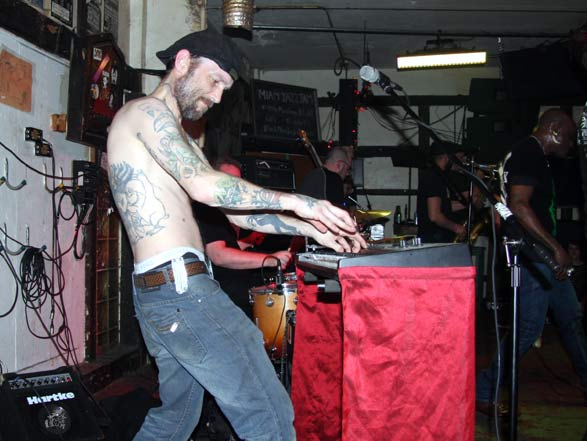 Man kann in Miami den Abend in South Beach verbringen und dem Show-off beiwohnen, man kann aber auch einfach mal in einen coolen Punk Rock Laden gehen und sich im Punk / Ska Fieber wiegen. Also ein wenig geschaut und dann Churchill's Pub entdeckt (seit 1979), schön mit dem öffentlichen Bussystem hinbewegt und Spaß gehabt!
Ein einfacher, schlichter Laden, viele Bands an dem Abend und dann auch später viele Leute, ja ich muss auch erwähnen ein hoher Frauenanteil. Hat alles gepasst und als die Hauptband namens Mephiskapheles auf die Bühne kam, ging die Party noch einen Gang höher. Was Andre A. Worrell und seine Mannen gezeigt haben hat auch meine Füße zum Wippen gebracht (immer ein gutes Zeichen). Leider ist am Tag zuvor mein gutes Objektiv abhanden gekommen, das wäre leider nötig gewesen, egal die Bilder von Mephiskapheles sind halt leider nicht so toll, aber das Konzert war es.
Being a tourist in Miami, what to do in the evening? Yeah doing the show-off at South Beach or doing the Rock The Cam –off? You are right; there is a cool venue I have read about called Churchill's Pub, serving Punk Rock and this kind of lifestyle since 1979. And there is Mephiskapheles and other bands playing. Heading there via public transportation (interesting…) I finally made it and hey, nice place and lots of cool bands – and not to forget, lots of women there. Good live party and when Andre A. Worrell and his Mephiskapheles gang entered the stage, the party went even a bit crazier. Thanks!
Read the Mephiskapheles interview with Greg Robinson, Brian Martin and Andre Worrell here.